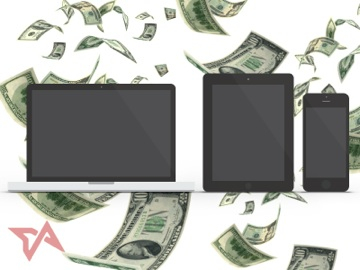 Our buddies on the design-oriented Hongkiat blog have done lots of number crunching and figured out the cheapest – and priciest – nations in Asia when buying Apple gadgets.
Essentially, it's a very bad idea to buy Apple gadgets in mainland China, where the prices are usually the worst in Asia. China's high import taxes are the reason why the walk-able border between Hong Kong and Shenzhen is plagued by 'grey import' gadget smugglers who're evading these taxes.
You'd expect Hong Kong to be the cheapest place to buy Apple gadgets, but that's surprisingly not always the case. Indeed, it's often Malaysia that, at current exchange rates (Hongkiat used the rates on June 24, 2013), works out the cheapest. Here's an example with the retina display MacBook Pro model: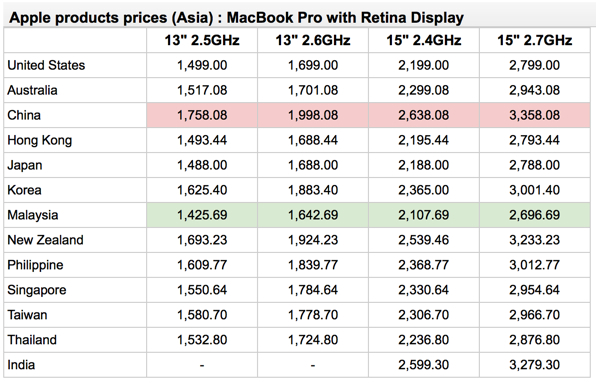 Malaysia, Hong Kong, and Japan often cheaper than the US
You'll see quite a disparity in prices. Malaysia is the cheapest place to buy that, where the entry-level MacBook Pro Retina model costs the equivalent of $1,425 right now – that's cheaper than the US retail price of $1,499. A lot of other nations in Asia-Pacific, like South Korea, New Zealand, and the Philippines are about $200 pricier. The worst is China where that model costs the equivalent of $1,758.
Malaysia also has the best prices on the iPad and iPad Mini.
On some other Apple products, Hong Kong and Japan join Malaysia in being the cheapest nations where the gadgets can be bought at below US prices. New Zealand's relative prices are often bad, and it's the worst place to get the outgoing Mac Pro where it is over $600 more expensive than in Japan.
Check out all the data and tables for more models (and see the exchange rate specifics) at the source link.
(Source: Hongkiat)
(Editing by Enricko Lukman and Anh-Minh Do)