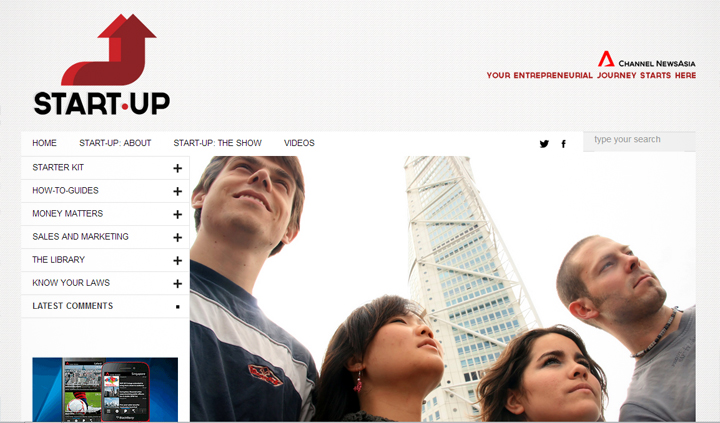 Singapore-based news broadcaster Channel NewsAsia will be kickstarting a new show about startup fundraising, and it has a straightforward name: Start-Up.
The "multi-platform project", as Channel NewsAsia calls it, will consist of a four-episode television series where eight startup founders will pitch to investors for over S$2 million ($1.59 million) worth of seed funding.
Leslie Loh of Red Dot Ventures and Eddie Chau of TNF Ventures will mentor eight finalists throughout the show, testing and incubating their ideas, guiding them on fundraising, and ultimately deciding who should receive an investment.
Interested startup founders can register at www.thestartup.asia (note: This is not at all related to Tech in Asia's very own Startup Asia conference) before October 31. The website also contains evergreen articles and video interviews with advice on various facets of tech entrepreneurship.
Yong Chung Jin, assistant vice president of Channel NewsAsia Marketing, says that the portal is meant to be a "systematic and convenient stop for networking and matching of needs."
The Start-Up project was conceptualized based on a survey conducted by professional services firm Deloitte.
The concept does bear some resemblance to Angel's Gate, a startup fundraising show produced by media production company Interactive.SG that in turn resembled shows like Dragon's Den and Shark Tank. It was even reported that preparations for the second season of Angel's Gate were underway and that auditions had begun.
However, a MediaCorp spokesperson, representing the company that owns Channel NewsAsia, said that it had locked the gates on Interactive.SG's baby, despite it receiving 1.5 million views on YouTube:
The new project, Start-UP, is a totally different one from Angel's Gate. There are no plans at the moment to telecast Angel's Gate again.
While the show certainly made a big splash on the Singapore startup scene when it was broadcast on Channel NewsAsia in 2012, the community's reactions have been mixed.
Angel's Gate the TV show may yet see the light of day, but perhaps not in its country of birth. Last year, it was reported that Singapore television content distributor Bomanbridge has sold the multimedia format for Angel's Gate to a Finnish production company.
Tech in Asia has reached out to Bomanbridge for comments.
(Edited by Willis Wee and Charlie Custer)