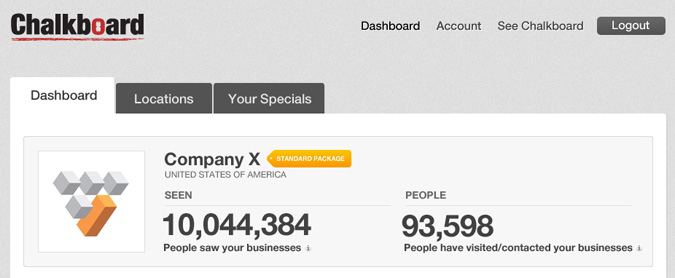 Mobile-local startup, Chalkboard, has recently made improvements to its merchant dashboard. (To understand what Chalkboard is, catch the video below.) Merchants can now sync their Chalkboard dashboard with their Facebook business pages.
So whenever they do a promotional update on Chalkboard, the same update will also be seen on their Facebook page. The new Chalkboard dashboard also allows merchants to view statistics and interactions easily; sort of like a Facebook stream of updates. Plus, the team also threw in a heat map to help merchants visualize where the interactions are coming from on a map.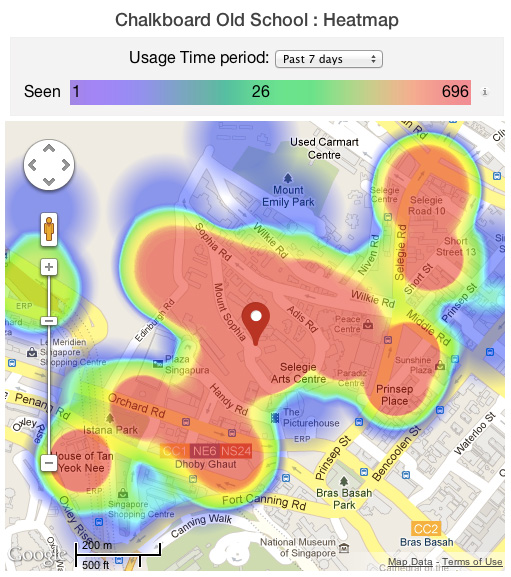 Personally, I find the heat map useful. It doesn't just tell you exactly where the interactions are coming from but it also gives hints as to where your traditional promotions should be conducted. Say you decided to launch a loyalty program. A rational business owner should distribute paper stamp cards (just an example) around the red region where folks already know about your product.
And for any customer acquisition promotional effort, the business owner should promote them in the purple region where people are just starting to know about his/her products. If the same region turns from purple to red, then you know your promotional effort is working.
The heat map also identifies areas where merchants may not know that potential for their product exists. Looking at the heat map provided by Chalkboard, there's an outlier spot on the left. It could be a potential spot to rack up promotional efforts.
Of course, these analyses are based on location data and must be taken with a pinch of salt.
Sitting down with the co-founder of Chalkboard, Bernard Leong, he explained to me that these features were developed because users wanted them. Two weeks after the new dashboard was introduced, Bernard told me that usage time has doubled from two minutes to four minutes.
"We also have customers from KL making remarks that we have made their lives easier with the dashboard and the new videos we produced helped them understand," he added.
On lessons learned, Bernard would like to share with fellow entrepreneurs that videos work like magic in Asia. He said that Asia does have great technology, but we usually suck at explaining how the things we built can help users.