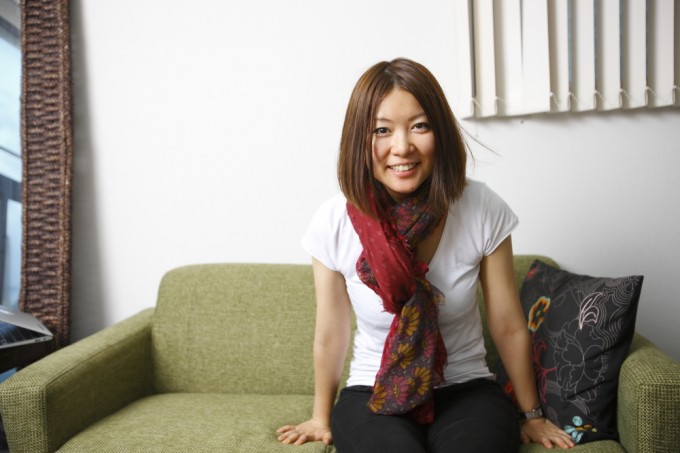 We concluded our Startup Asia Singapore 2013 event last week with a blast, and our female entrepreneurs had fun on the panel debating issues facing women at tech startups.
At the event I had the privilege to speak with Akiko Naka, CEO of Wantedly, a Japan-based social recruiting site. She told me of her struggles during her corporate career and how she managed to take the first leap to pursue entrepreneurship. Her love for coding and a stint at Facebook Japan inspired her to create her current startup, and she hasn't looked back since.
Her advice to entrepreneurs out there? Gender doesn't matter. The three skill sets necessary to survive in this technology and startup industry? Read on to find out more.
Tell me a little about yourself.
I was born and raised in Japan, always had an interest in web services and front-end coding as my dad was teaching IT at a university. I had my own Mac since elementary school, and used to create visual games using Visual Basic. Later at a university I ran a small business with few other members, who are all students, creating static homepages.
I chose Goldman Sachs as my first career, but I just could not forget my passion for web services. So, I moved onto Facebook Japan at the age of 25 where I felt a phenomenonal social wave coming to Japan. I then started building my own service Wantedly, a social recruiting site at the age of 26. Now the service is taking off after a year from its launch, having over 1,000 clients and about 40,000 members, making us the largest social recruiting site in Japan. Now Wantedly has eight full-time team members.
What is the startup about and what's your role?
We believe good hires happen through friends' recommendations, because having mutual friends guarantee the quality of candidates to an extent. It works the other way too – where candidates have a good chance of meeting a good team through mutual friends. We have a core feature called "support this job listing" that encourages your friends and team members to share job listings. In this manner, through the power of social media, the listing gets passed around, leading to a good match.
Companies are able to list one job for free, forever, but will be required to pay JPY 35,000 (US$355) for unlimited job listings. Our clients include DeNA, CyberAgent, Amazon Web Services, SalesForce, and Engine Yard.

I currently serve as the CEO and am in charge of marketing, hiring, and a bit of front-end coding. My previous experience includes front-end coding so I still help design, UI, and fixing bugs.
How and why did you get started in this industry?
Two reasons for me choosing social recruiting. First is my passion in work. Our goal is to grow the number of people who truly love what they do as their job. My first career at Goldman Sachs was exciting but at the same time I started to ponder; I wanted to do something that creates 1s and 0s; the finance industry is more about calculating millions, and it was not something that I was truly passionate about.

Initially it was tough to move on to the next career. And I feel that there are so many young people like me who are afraid of stepping forward to pursue what they truly love. With this, I want to help those people to make the first move and discover a job that they would fall in love with.
The second reason is my experience at Facebook. I was fascinated with the power of social media, during my stint at Facebook Japan back in 2010. I was amazed at how it empowers individuals, and hence wanted to create something surrounding the same theme.

The birth of the social recruitment service, Wantedly, was a beautiful marriage between the love for work and social, allowing people to pursue the career they truly love.
Did you face any challenges in particular?
In the early days, I had my friends to help code and create a prototype of the site. However, my friend was holding on to a full-time job and could only help me at night or on the weekends. Hence productivity was pretty low. So I self-taught Ruby on Rails with a book to build a prototype. Learning backend coding was not easy but I tried hard and came up with something that works. That prototype was featured on TechCrunch and created a huge buzz. That was my first challenge, and my first turning point in my entrepreneurial life.
How do you seek out relevant mentors and people for help?
Fortunately for me, I knew many CEOs and entrepreneurs through various events and work. I relied on those people (around five to six of them), and asked for advice so they were my mentors. The biggest chance I had to create that kind of network was attending Infinity Ventures Summit (IVS) in Japan.
What were the sacrifices you've made in the pursuit of this move? What was fundamentally different between a corporate career and startup life?
To me, it felt like I gave nothing up to pursue this. To put it this way: I think I was sacrificing so many things working for larger, and more established companies.

The difference between a corporate career and pursuing the startup route is freedom. In a corporate career, it is very difficult to pursue what you truly love. The fear of losing a stable fixed income sometimes blinds you and makes people difficult to step out of corporate career. In a startup life, you have the choice of freedom. You, of course, will have less income in a short term, but upside potential is unlimited. I believe, learning how to build a service/organization/business in your twenties is much more important than earning some amount of money and doing what you are not passionate about.
Do you think your gender has played a role in helping you gain an advantage over your male counterparts? (soft skills, personal touch, attention to detail, etc.) Has it been a disadvantage in any way?
Perhaps in terms of publicity. I had many interviews and much media exposure in Japan due to my gender, and that's due to being in an industry where I form the minority.
In your opinion, what are the necessary skill-sets and attitudes required to succeed in the technology and startup industry?
First is to learn fast. The key is you have to learn very fast in order to survive. You need to execute fast, fail fast, and learn fast.

The second is to focus and keep things simple. Focus on what you are doing – keep your product, UX, and organization simple. Just do one thing at a time.

Lastly, be user-oriented. Always place the users as your priority and don't let any excuses come in your way. Stop giving yourself excuses, like "this is too hard to code". Do your best to realize the best user experience.

In summary: Learn fast, focus and think/act/make it simple, be user-oriented.
Do you have any female role models that you look up to?
At present, no. But I do look up to Steve Jobs, Hayao Miyazaki who is an animation creator, and Taro Okamoto, who is a contemporary artist.
Do you have any advice for fellow female entrepreneurs?
My advice is that you don't need to be too conscious about your gender. I have never been. Just be you, and you might get lucky in terms of publicity if you stand out in the pool.
Are you single or married at the moment? How to you strike a balance between work and personal life?
I am not married, but I'm hoping to be within a few years. I think having a family is a very important factor in our lives. It would be ideal to spend half of your time at work, and half of your time with your family. I believe family is as important as work.
Anything else to add?
Wantedly is solving a problem to reduce the number of people who hate their career. Work should be something that you truly love and makes you want to dedicate your life to doing it. To achieve that, we have come together to build and operate Wantedly, which we're proud to say is the largest social recruiting service in Japan. We believe having a good team matters, which adds value to loving what you do.
[Update on April 28, 2014] Akiko will be speaking at our upcoming Startup Asia Singapore conference held this May 7 and 8. We have also extended our 10% discount till April 30. So hurry, grab your tickets using code EarlyBirdApril on our website here.
---
This is part of Tech in Asia's series on female entrepreneurship.