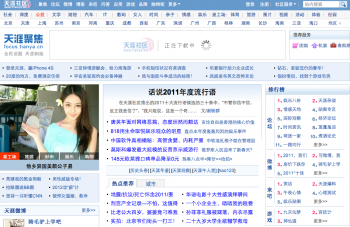 Tianya is part of China's internet old school, a news portal/BBS forum that was the hottest thing going in the days before social networks and microblogging. These days, there's still a fiercely loyal community there, but you might be forgiven for thinking that now is a strange time for Tianya to be discussing an IPO.
Nevertheless, they apparently are, at least to some extent. In an interview with Securities Daily, Tianya CEO Xing Ming said the company was now ready for an IPO and was just waiting on the right opportunity. That makes a lot of sense, given how bad the market has been for Chinese IPOs in the US (for example).
Why didn't it IPO earlier? According to Xing Ming, it wasn't legally able to because Google was a partial owner of Tianya. Tianya bought back that stock last year, and now, Xing says, "there are basically no legal obstacles to [Tianya being listed]."
But even if the markets improve, how much interest is there going to be in a BBS forum (albeit a giant one)? Xing Ming concedes that with microblogging services like Sina Weibo there's not as much room for BBS services as there once was, but says he hopes the company will be one of the few communities that can survive thanks to user loyalty.
It's good to hear Xing acknowledging microblogging as a threat, but his response to a question about how to respond to that threat, uh, does not inspire a lot of confidence:
We've always been feeling our way forward, looking for our breakthrough, and always feeling around in the area of internet communities. We chose the path of the internet community. I think such a community should provide comprehensive services. Comprehensive services should include [BBS] forums, and forums are Tianya's number one industry-leading product, it's the most popular net forum in the world. Forums can be understood as the public squares of a community, but you can't just rely on the forums model, you also need a personalized center, also groups, so that people can interact and communicate with each other. You should be able to play games, buy things online, etc.; we've been continually making a complete community platform.
Call me skeptical, but that sounds an awful lot like what weibo companies like Sina have already done. That said, Tianya is gigantic, so it would be foolish to count them out just yet. Given the market, we don't expect them to IPO anytime soon, but we'll keep an eye out and let you know if/when they really are ready to IPO.
[Securities Daily via Sina Tech]