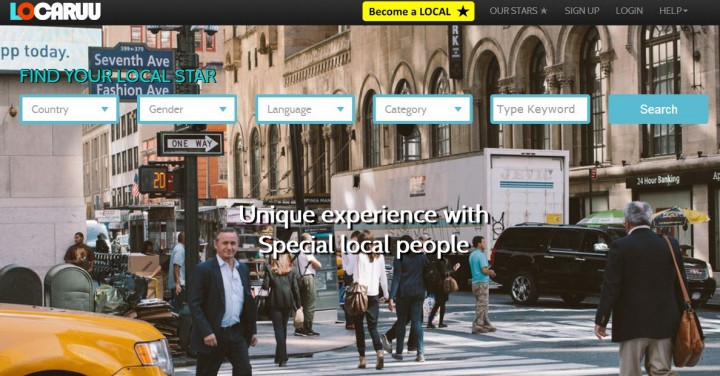 Historical locations and scenic landmarks – these typically make up itineraries provided by tourist guides to foreign travelers. But as tourists become more well-travelled, they are now seeking something more unique.
Enter Tokyo-based startup Locaruu. It wants to give travelers a more immersive and personal experience by providing local guides. But not just any guide – how about a tour led by popular personalities who will provide interesting activities such as sports, parties, and workshops?
London-based fashion designer Danish Wakeel and fashion blogger Margaret Zhang have come on board as a start. To date, there are already 16 local stars with activities on the platform. To entice more travelers, Locaruu aims to get more models, artists and other public figures on board.
Hailing from Korea, Locaruu CEO Yuna Kim has spent a few years travelling and studying in different countries such as Canada and Japan. She learned that the lack of avenues to meet locals and plunge into the countries' cultural activities has made these trips less fun. She has a background in fashion and entertainment, which gave her the idea of bringing in popular personalities.
At age 12, she created a fan club of a Korean boy band. Later, she created an online hip hop community and became the number one fashion and music community on Daum Café in Korea with more than 10,000 members back in 2000.
(See: With 70 cities on its radar, you can plan your travel itinerary in 5 minutes with JoGuru)
Not just celebrities
As a peer-to-peer platform, Locaruu encourages locals to take part in the community and give tourists interesting activities. Local stars can do this by signing up and posting an activity on the website. In turn, guests can search for activities and filter by country, type of activity or language spoken.
Local stars can determine the cost for the activity, and guests can pay for the transaction through PayPal on Locaruu. From these transactions, Locaruu gets a 20 percent commission.
Nonetheless, the startup does not limit its users to celebrity guides. Anyone who's interested in sharing local culture to travelers can hop on board and become a "local star".
Locaruu is also built with the goal of helping travelers enhance their English-speaking skills or learn a new language by interacting with local guides. This springs from the fact that many travelers – especially from Asian countries – are likewise going to other countries to enhance their English skills. Yuna shares that she herself has come across many international students who were nervous in front of native English speakers.
Locaruu hopes to get more users from Asian countries, such as Japan and Korea, since they're thirsting for more avenues to improve their English. To complement this focus, the startup will seek more local stars from English-speaking countries such as London and New York.