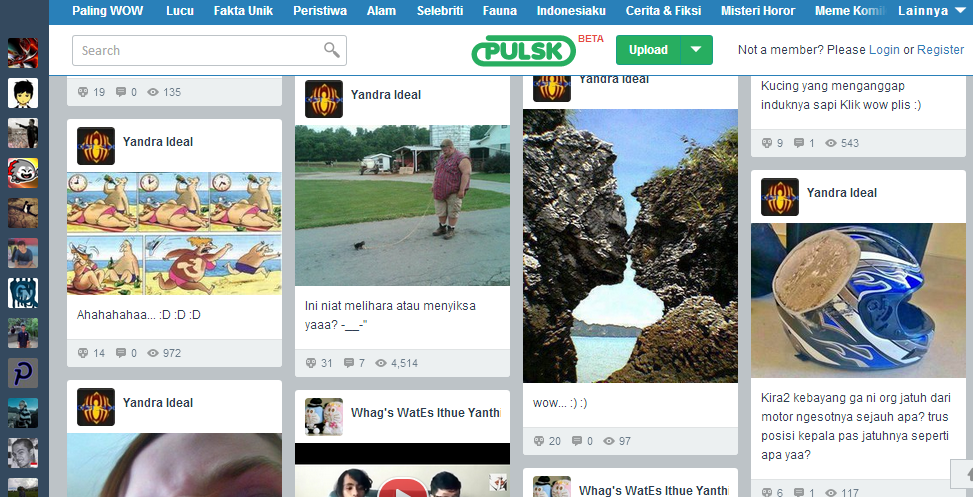 Indonesian social content platform Pulsk is revealing a few interesting stats about its progress. The Pinterest-like site, which was launched September last year, has attracted over 200,000 registered members. All those members have posted around 450,000 times, resulting in four million 'wows' (similar to a Facebook's 'like'). To celebrate its first anniversary, Pulsk has rolled out a new design and added new features, including an enhanced user profile page.
Gaining confidence from its achievement in the first year, Pulsk aims to reach 500,000 registered members next year. The last time we wrote about Pulsk one year ago, it only had around 2,000 registered members. Pulsk even aims to tackle Pinterest in Indonesia. Rendy Bryanzahas, product director of Pulsk, says, "If Pulsk is compared to Pinterest, we have richer local content for Indonesians."
To achieve this, Pulsk plans to add more features like a social sharing hub so members' posts can connect to their other social media platforms like Facebook and Twitter. On the business side, Pulsk will expand its company scale and aim to increase revenue. At the moment, Pulsk doesn't have any investors. It monetizes from ads, content marketing, and partnerships with brands in Indonesia.
Another content hub in Indonesia quite similar to Pulsk is Saatini. But while Saatini's posts are created by its team, Pulsk's are user-generated.
(Editing by Paul Bischoff)