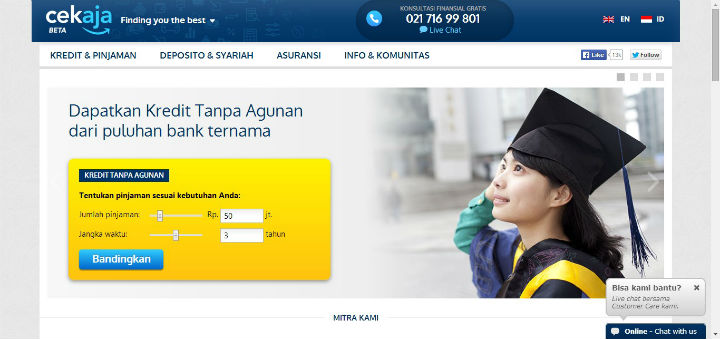 (Update: We revised a couple of facts: CekAja's beta launch timeline and number of transactions processed)
Indonesia could become a huge market for the insurance industry in the near future, according to Deloitte. Despite the low insurance penetration rate, Indonesia is experiencing a demographic shift where many young Indonesians are entering the workforce and joining the middle class.
Sensing an opportunity, many financial comparison sites have sprung up in Indonesia. Just last month, we wrote about seven such websites in Indonesia. CekAja.com is one of those that has jumped into the water to capture the market early.
Founded in November last year and beta launched in early May, CekAja helps Indonesians compare financial and insurance products. CekAja works with many prominent banks and insurers in Indonesia to provide extensive options for users.
They can compare a wide range of financial products such as personal loans, credit cards, deposits, and syariah, a deposit that follows Islamic principles. Other services like mortgages, vehicle financing, vehicle insurance, property insurance, life insurance, and electronics insurance will be rolled out gradually. CekAja co-founder John Patrick Ellis says:
Consumers in Indonesia have made and submitted comparisons for more than IDR 5 trillion (US$529 million) in value of banking products, and over IDR 50 billion ($5 million) in value has been created for our banking partners, all in the past 30 days of our beta launch period.
More comprehensive than the rest
CekAja provides an end-to-end service starting from a potential customer making a comparison on the website all the way to the approval or rejection of the service. That's what separates CekAja from the pack.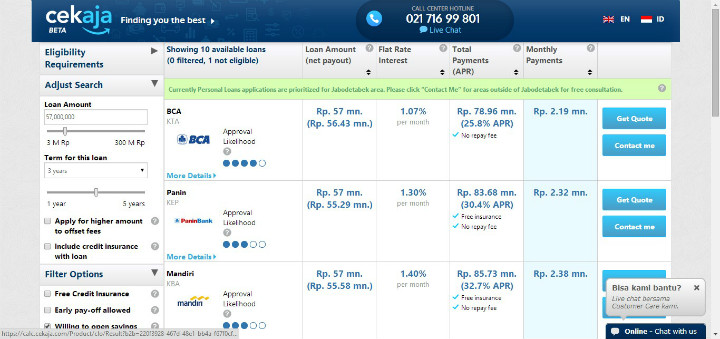 To get started with CekAja, potential customers choose what products they want to compare, for example personal loans, and then fill in the form containing their basic information and contact details. If the customer decides to apply for a certain product, the CekAja team will contact him or her and send a courier to get the signature along with all required documentation. Indonesian regulation dictates that all application papers need an inked signature in order to be valid.
Once the requirements have been fulfilled, CekAja will send all documents to its bank partner for further review. Within two to four weeks, CekAja's concierge will tell the customer whether the application has been approved and if not, what steps need to be taken.
CekAja manually screens each applicant. Because there isn't an online database of blacklisted people in Indonesia, CekAja partners with the Indonesian Credit Card Association (AKKI) and does background checks themselves to make sure all applicants are eligible for the financial products they are applying. The team also has a customer service team with financial certification who can help answer users' questions before submitting an application.
This is unlike other financial comparison providers, who would just refer all applications to bank partners for the latter to follow up. The partners would then need to screen applicants themselves and handle the papers. Some of the other websites lack flexible filtering criteria, and instead of providing complete information, directs users to the banks' websites.
Battle scars to show
Ellis says that he faced no specific difficulty in implementing this product in the market aside from the hard work of convincing banks to forge a partnership with them. He also found it difficult to get good team members who have the experience, knowledge, and expertise to make this idea work.
CekAja's team possesses plenty of relevant experience. Mountain Venture, a company builder and the investor behind CekAja, got the former co-founder and acting CTO of German financial comparison site Check24.de to join Ellis and team to create CekAja in Indonesia.
Ellis himself is a serial entrepreneur who co-founded Harpoen, an augmented reality app that lets users create 'digital graffiti', and Mapiary, a location-based app that enables users to create custom maps for various purposes. CekAja has 15 full-time employees in Indonesia to handle the business and operational matters, and 40 full-time employees in the Philippines to cover technical development.
The startup is currently serving the Jabodetabek (Jakarta, Bogor, Depok, Tangerang, Bekasi) area only. Ellis says the site's seeing promising traffic so far, and he plans to reach the rest of Indonesia by creating a cloud-based financial software. To reinforce its existence outside Jabodetabek area, CekAja will target B2B customers and they will become agents of CekAja to deliver the services.
CekAja also plans to launch a financial comparison website in the Philippines soon.