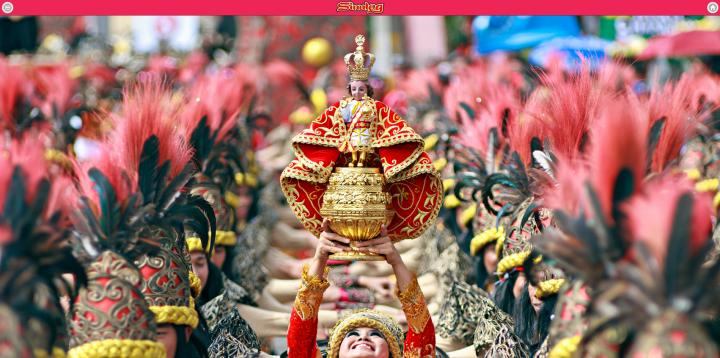 After Philippines' Cebu City got hit by an earthquake and typhoon Haiyan last year, it's no wonder the city has experienced distraught. But Cebu quickly found its footing again. This year, it's even preparing for its upcoming nine-day Sinulog festival commencing on January 19. Different from past festivities, tourists can now use Sinulog Guide, an app to guide them through the celebration.
The app, created by Philippine telco Smart Communications and Cebu-based startup InnoPub Media, is any tourist's guide to the festival. It covers the history of the festival and includes a complete listing of official activities.
The guide also lists places to stay and dine, which makes it seamless for a tourist to reach necessary establishments. For hotels and pensions, it includes establishments that do not accept reservations and can still accept walk-in guests. A "tap to check location" feature uses the phone's GPS and shows directions to the selected establishment using Google Maps. To call a tour guide or book a restaurant reservation, a tourist just needs to tap the phone number beside the listing to make the call.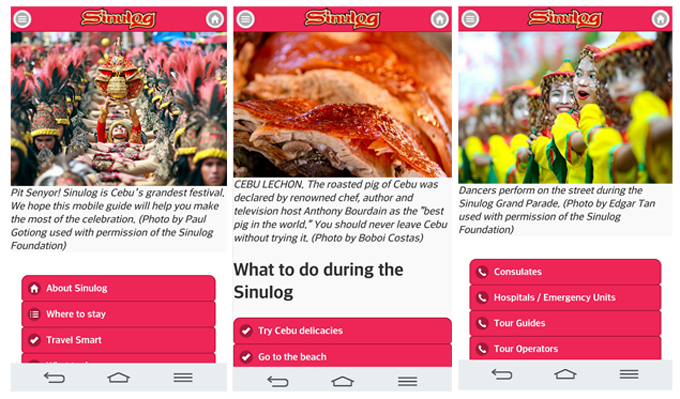 Sinulog Guide app is part of the digital tourism initiative of Smart and InnoPub. InnoPub co-founder Max Limpag says because travelers nowadays bring along tablets and smartphones, it's useful to deliver tourism information through mobile apps.
This is especially helpful to inform tourists that Cebu is already a safe and fun place to go for a vacation.
The app contains tips on what to do to make the most of a tourist's Cebu visit. It also contains a directory of consulates, hospitals, taxi, and other transportation companies, and a list of tour guides and tour operators accredited by the Department of Tourism.
A new and improved version of the app will be released this week to include articles on contingents joining the parade.
The Sinulog App is available for a free on Google Play, Windows Phone, and through a mobile web version.
(Editing by Paul Bischoff)