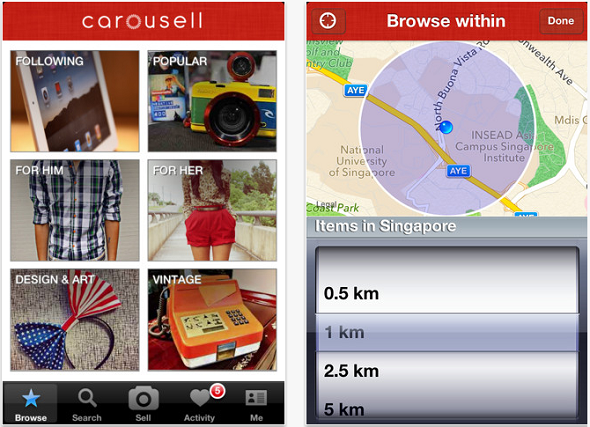 It's one thing when large corporations crash and burn while replicating the latest technological fad (Mediacorp and daily deals, anyone?). But it's quite another for a company to recognize its weaknesses and partner startups that know their stuff.
The STClassifieds-Carousell partnership, announced just this morning, belongs to the latter category.
Both products are similar in that they are online classifieds that facilitate peer-to-peer commerce. But while STClassifieds, owned by Singapore Press Holdings, is strong on the web; Carousell, a Singapore startup with modern sensibilities, is showing promise on mobile. Sure, STClassifieds has its own mobile app, but it doesn't hold a candle to Carousell's design, which fits right in with the Instagrams and Paths of the world.
Which is why this partnership makes a lot of sense. Carousell gains because items posted for sale on its platform will now also appear on STClassifieds. This gives Carousell's existing userbase more reason to stay on the platform. Meanwhile, STClassifieds users effectively gain a new mobile client in Carousell.
In the press release, SPH has acknowledged that Carousell, a Singapore startup incubated by NUS Enterprise and funded by the ACE Startups grant, has an app that is connecting well with mobile-savvy youths. Yet at the same time, it did not even mention its own app once in the press release.
That's a big deal. It's about as close as you can get to an admission from a publicly-listed company in Singapore that it hasn't mastered the mobile domain, and that it needs to be shown the way by an upstart that isn't even one-year old (Carousell was founded in May 2012).
This partnership, though, certainly beats the alternative of assuming that just because you're a powerful company with plenty of capital, you can attack the problem by simply throwing money at it and hoping that customers will "get it".
It also has implications for the startup ecosystem in Singapore, further indicating that large institutions in the country are starting to see value in the startups that are stepping into the market, and are open to closer collaborations.
Recently, we've seen PlayMoolah seal a distribution partnership with OCBC Bank, as well as SingTel's myriad of investments, acquisitions, and partnerships with local startups.
It's likely that we'll see many more of such partnerships this year.
Note: Vinnie Lauria of Golden Gate Ventures is a mentor of Carousell. Its mobile app is available on the iPhone and Android. The company has yet to generate any revenue at this point.
Clarification from Quek Siu Rui, co-founder of Carousell:
It isn't that the STClassifieds apps are no good. In fact, their mobile apps are working out great, and were intentionally designed with a more general audience in mind. And their partnership with us (Carousell) is a niche strategy that helps STClassifieds offer a complete suite of options for their users, in this case the Gen-Y, to create content to be listed on the STClassifieds site. 
And more importantly, this partnership is a win-win since our value proposition is in the simplicity of creating listings. And, since we are mobile-first, STClassifieds provides sellers on Carousell with a significant web audience. This is crucial for both parties because it helps us boost the percentage of items that successfully get purchased and in turn helps provide a better user experience for Carousell users that will keep them returning.