The new managing director for car listings site Carmudi Philippines is Subir Lohani (pictured below). Unlike other Rocket Internet executives, who are typically from Europe and are parachuted into the emerging markets that the ecommerce giant intends to conquer, Lohani is actually from the Philippines.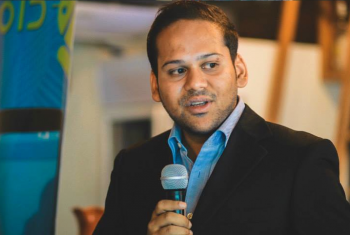 Of Nepalese descent, Lohani moved to Metro Manila when he was just six months old, as his parents were to conduct diplomacy in the country. He grew up here and attended International School Manila, which is the most popular educational choice for the children of prominent businesspeople, politicians, and celebrities.
Lohani left the country in 2003 to attend Boston University, and then went into Singapore's banking industry in 2008, at just 22, and he returned a few short weeks ago to spearhead Carmudi's new direction in the Philippines. He is overtaking the position from outgoing managing director Nicolas Boldt, who will take on a new role as Carmudi's global sales director, in a transition that officially ended yesterday, August 7.
To Lohani, Carmudi thus represents a new job as well as a fitting homecoming. "It feels good to be back," he says. "This might sound cheesy, but it's nice to give back to the country in some way through Carmudi."
Got a business problem? Let's hug it out
Though many people criticize Rocket Internet as being a clone factory, Lohani is focused on the value that it can provide to Filipinos regardless of their mother company's ultimate goals. "We make it easier for Filipinos to find their dream car by doing two things – putting every car for sale in the Philippines online and verifying all details and photos of the vehicles ourselves before it's placed on our website," he shares.
Despite this admirable mission, Lohani still has to contend with the intricacies of Filipino business culture, which is vastly different from what he experienced abroad in China and Singapore, where things were more cutthroat.
"I would train my analysts to be extremely detail oriented by marking their mistakes on their documents (e.g. wrong font size) with a red marker," Lohani says. "Being detail-oriented is such an important quality to have in a competitive industry banking because you need to spot things that other people don't to get ahead of everyone else."
This kind of approach would not fly in the Philippines, where harmony is more valued. "The Philippines has been ranked as the most emotional country in the world, and I think every manager here has to take that fact into consideration," he points out. "People here get so close so fast, and Filipinos often refer to their colleagues as 'family,' as compared to other countries who never want to mix business with pleasure."
This culture manifests itself in the smallest of details. "I am also familiar with this mindset because I grew up here, but to be honest, I still get caught off guard when I see a lot of hugging in the office," Lohani confesses.
But this atmosphere is not without its charms and its perks. Upon his arrival, his Carmudi Philippines team welcomed him with a huge banner, and they've grown to treat him as Filipinos would normally treat a "kuya" (older brother) or "kapatid" (sibling).
Due to this mentality, Lohani has had to adjust his management style to Filipinos, and not the other way around. "A purely results-driven, high pressure environment does not seem to motivate Filipinos, but I believe in creating a comfortable family-like atmosphere where Filipinos are intrinsically motivated to work beyond their scope and become proud of what they accomplish," he says.
To this end, the Carmudi office displays pictures of the team and even a family tree on the walls and windows, much in the same way a real Filipino family would. During the afternoon, Lohani hosts a wrap-up meeting in which the entire team gathers to celebrate each other's accomplishments.
See: Rocket Internet continues its tear through Asia with the launch of vehicle classifieds platform Carmudi
Breaking Rocket Internet stereotypes
To anyone who has ever heard about the stereotypes said of Rocket Internet, the descriptions do not fit Carmudi Philippines, and therein lies the advantage of each venture under the Samwer brothers: every managing director is free to set the tone for their company in the way that will best allow them to meet their goals.
When Carmudi first started in the Philippines, the initial goal was to get the car listings online and grow the local team. Six months in, Carmudi Philippines has more than 20,000 listings and a staff of 40 employees, so Lohani is shifting the focus of the company toward account management and customer service.
"We call the dealers ourselves and provide tailor-fit advice to sell cars faster online, create reports with industry insights for them, and we even hold reunions for car dealership associations," Lohani says. "I mean we can also do the usual follow-up calls and check-up visits, but I believe that one of the secrets of success to any company is creating that X-factor that turn clients into partners."
Though Lohani is newly arrived to the Philippines after a long stint overseas, the umbrella of Rocket Internet gives him an existing network to tap into as Carmudi Philippines changes gears and tries to grow. There are already eight Rocket Internet companies operating in the country, including Zalora, Lazada, EasyTaxi, Lamudi, ClickBus, Lamido, FoodPanda, and PricePanda.
Though the Rocket Internet network allows Lohani to establish partnerships, such as offering Zalora discounts and EasyTaxi vouchers to bloggers who came to the recent launch of the Carmudi Android application, he sees knowledge sharing as the biggest advantage.
While each managing director has their own entrepreneurial style, Lohani feels that they are all united by their common desire to be number one in their respective sectors. He is thus eager to build close personal relationships with each one, so that they can mutually learn of better ways to scale in the unique market that is the Philippines.
With a confidence much more befitting the typical image of Rocket Internet, Lohani says, "we will probably discuss best case practices for each venture, some unique strategies we can employ to dominate the e-commerce industry – you know, those typical conversations people have over a cup of coffee."