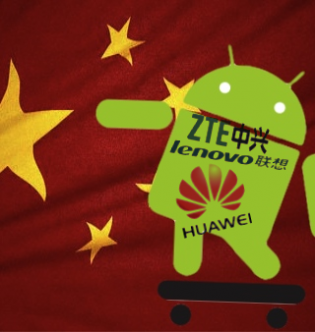 The research firm Canalys has unveiled new data for Android shipments in Q4 2012. With Android now powering a third of all mobile phones shipped in that quarter, it's especially notable that Android has helped China's Huawei, ZTE (HKG:0763; SHE:000063), and Lenovo (HKG:0992) move into the top five among global smartphone makers.
Canalys tracked smartphone shipments in over 50 countries to conclude that the smartphone market grew 37 percent compared to the same time in 2011. Android is on 34 percent of all such phones around the world, with iOS on 11 percent of them.
There are actually four Chinese brands to look out for, as Canalys notes that Huawei, ZTE, Lenovo, and Coolpad (though the researchers used the "Yulong" (HKG:2369) parent company name) "all grew by triple-digit percentages." As we noted recently, figures from Gartner have already told us that Coolpad (and Lenovo, ZTE, and Huawei) is outselling Apple's iPhone within China. But that's just within China. So CoolPad is mostly restricted to domestic sales, and is not in the worldwide top five.
Samsung still grew 78 percent globally according to today's stats. Samsung was China's top smartphone brand in 2012 as its Galaxy phone series, particularly the large-screen ones like the Note II, sold well. But Lenovo has plans to topple Samsung's statue in China, with CEO Yang Yuanqing having recently declared that intention.
While Coolpad's success is almost exclusively within China, its compatriot brands have successful overseas sales as well. Today's report notes:
Huawei took third place for the first time in Q4 and ZTE fourth. As well as their home markets, they have been relatively successful in the US, where ZTE was fourth and Huawei fifth, driven by their portfolios of low-cost LTE smart phones. Even so, both vendors took less than 5 percent share each there.
Lenovo pushed out Sony to get into the top five. Here are the Q4 2012 global stats: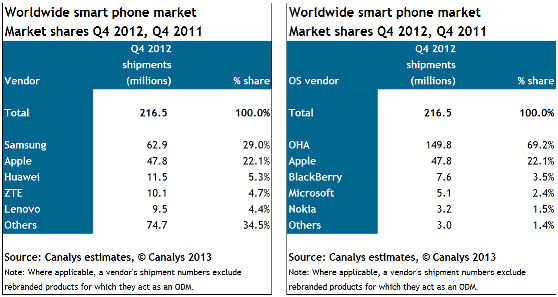 (Source: Canalys)