Update 2: Reuters reported that someone familiar with the subject said that Facebook has not signed any agreement with any company in China so far.
Update: Sohu.com reported that an agreement between Facebook and China was signed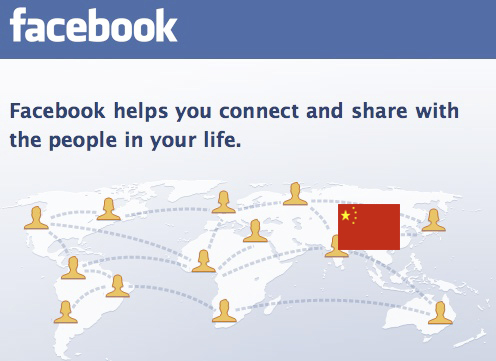 Most of you would have heard the rumors that Facebook might be coming to China. Marbridge Consulting reported that Baidu and Facebook are rumored to have  joined forces to bring the social network to China.
It was also rumored that Facebook China will not be functioned under Facebook.com. Facebook.cn, a Facebook owned domain could be used instead.
Take all this information with a grain of salt as no source could verify that the rumor was accurate. We tried but failed too.  "There's nothing to say: mere rumor. We won't comment on rumor," Kaiser Kuo, Baidu Spokesperson told us in an email.
Still (assuming all these speculations are true) it somehow made me wonder if Facebook can succeed in China. Turned out, my analysis tends to favor for a Facebook win. The social network might have enough muscles to succeed in China one day, and here's why:
1. Due diligence paid: It's a known fact that Facebook has always wanted to enter China. However, Mark Zuckerberg understands that China is probably one of the greatest barriers toward Facebook's march to connect the world. He was, indeed, very patient with his approach. Facebook has studied China for quite some time. Mark Zuckerberg has even poured in time to study the Chinese language and culture. He even took time off to visit China last year. Note that all the above are probably just a small part of Zuckerberg's effort to understand China. I'm sure he would have done much more than these before bringing Facebook to China.
2. First step right, Facebook.cn works better: Facebook.com is banned in China simply because there is a clash of philosophy between the two. In my opinion, it is a clever move to enter China through Facebook.cn. The China domain will follow Chinese's law religiously (and probably unconditionally) while Facebook.com remains status quo. Facebook.com will continue to celebrate freedom of speech. Who knows, 5 or 10 years down the road, when China starts to embrace democracy, both sites could merge which immediately connects China with the world.
3. Chinese love Mark Zuckerberg: When Mark Zuckerberg visited China last December, we saw a spike in the number of Facebook users in China. With all factors constant, the only reason that could trigger the growth was Mark Zuckerberg's presence in China. "I think more of us signed up for Facebook because of Mark Zuckerberg's visit in China. His presence has somehow promoted Facebook in our country," Aileen Meng, a professional working in the Internet industry in Beijing China told us in our previous article.
Not an easy task
However, we shouldn't discount the fact that there are strong competitors in China. With 160 million users, Renren is a competitor that Facebook should be caution of. Without compelling reasons most users wouldn't jump ship to Facebook. The network of friends built on Renren ties users down to the Facebook clone. Even for Chinese students abroad, Facebook is merely used to help them connect with the locals. Renren, is undoubtedly still the first choice online social network.
That's a major problem. As most Chinese use Facebook as a medium to connect with the world, putting Facebook.cn as a separate entity from Facebook.com would simply kill off the reason for Chinese to join Facebook. However, that's only on theory. I believe the Chinese would still sign up for Facebook.cn to quench their curiosity. After all, Mark Zuckerberg's creation is somewhat influential, at least within the Chinese tech community. If you haven't already known, it is also good to note that Renren has planned for a $500 million IPO in U.S. If succeeded, the IPO will give Renren more funds for growth.
Conclusion
With Renren dominating, it will be a tough battle for Facebook to be the market leader in China. But does Facebook has much choice? Probably not. The thing is, Facebook has to enter China quickly before it is too late. The bigger Renren grows, the harder it is for Facebook to establish presence in China. Facebook understands that it has to move swiftly before Renren becomes the de facto social network in the country. Joining up with Baidu (assuming this is true) seems like a good choice for Facebook. Nothing beats a local tech giant to help you scale your product. Let us know what you think.