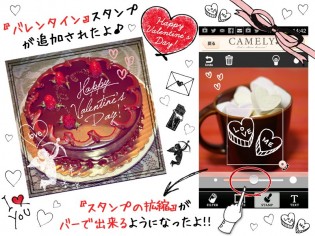 We've featured lots of fun photo apps from Japan in the past, and here's another one that looks like a promising addition for Valentine's Day. Called 'Camely,' the service is in fact a photo-centric SNS, almost like Instagram if it were force-fed estrogen supplements 1.
Since it is a sort of social network, the sign up process (in Japanese) for Camely is a little bit tedious. But once that's done, using the app is pretty straight-forward. You can take photos and apply a number of cute effects to them, including an assortment of filters, frames, stamps, and text effects.
With Valentine's Day coming up, Camely has added a range of new stamps for the occasion, so now there are lots of cupids, hearts, and other photo decorations to that effect. Users can post images to their Camely page, or they can also share photo creations to Facebook, Twitter, or Mixi. You can also browse new and popular images from the apps main page, and follow your favorite users too.
Camely was released back in October, but received an update a couple of days ago, which included the new features. If you'd like to check it out, you can get it over on Google Play for free. (Furyu via PR Times)
---
The name is a little bit strange, although that's sometimes par for the course with Japanese apps. As far as I can tell, Camely has nothing to do with camels.