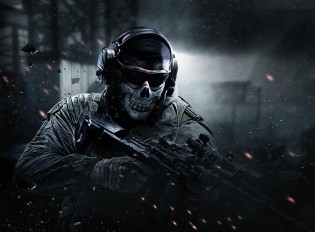 Tuesday marked the beginning of the blockbuster Call of Duty franchise's first real entry into China: Call of Duty Online. Western publisher Activision has paired with China's Tencent to launch the game in China, and while not everything is online yet — microtransactions aren't yet available and it's called "closed beta" for a reason — we should soon begin to see how China's gaming marketplace will react to the game.
On the one hand, there's every reason to expect success. Call of Duty is a popular franchise everywhere — China is not an exception — and having an official version and official (hopefully lag-free) servers on the mainland should help to increase the franchise's popularity.
Even so, though, I have to wonder if the game is offering enough. While it's being billed as "a totally new game" on the official site, there isn't much to it that's new at all. For example, the "new maps" in the latest alpha build of the game are almost all from previously-released Call of Duty games, including a couple from the original Modern Warfare game that is now more than half a decade old.
And while previous Call of Duty games were never marketed to Chinese players, many Chinese gamers have played them. Indeed, Call of Duty titles are among the most widely pirated in China (if street-side pirated game salesmen are any indication). For many Chinese gamers, these "new maps" are six years old because they played the original Modern Warfare at the same time everyone else did. So what's new and exciting about Call of Duty Online for them? As far as I can tell: nothing, except for the fact that they now have the opportunity to pay for things in the game. Oh joy.
To be clear, I still expect Call of Duty Online to do well, if for no other reason than that the promise of being able to play lag-free games on Tencent's servers is going to entice a lot of FPS gamers into trying the game out (again). But I suspect a subset of Chinese gamers will still be a bit miffed about having what is very clearly old content repackaged and shoved in their faces while Activision and Tencent shout about how it's "all new." Chinese FPS fans have played Call of Duty games and they are not idiots; the game may be fun but there isn't much about it that's actually new.
With that said, we're still planning to take the new game for a spin and kick the tires a bit once it comes out of closed beta. It will be interesting to see just how deeply Tencent and Activision have embedded microtransactions into this game, and whether they ultimately enhance it or cripple it. My hopes are for the former, but neither Activision nor Tencent have a great record when it comes that sort of thing, so we'll have to wait and see. In the meantime, though, don't believe the hype about Call of Duty Online being "all new." It's not.