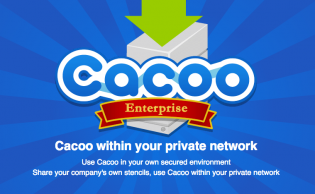 Based in Fukuoka, Japan, Cacoo is an online collaborative design service which we have featured a few times before. With over 700,000 users worldwide, the service has rolled out a number of fun features since it was first launched, including a stencil store and Google Hangouts integration.
And now Cacoo is taking things a step further, unveiling Cacoo for Enterprise. So now companies can roll their own Cacoo on their own private network, rather than use the regular version of Cacoo on the web. They can then customize user rules and access, according to their own preferences. The basic licensing price is listed as $2000 for one year, with additional costs for each user you wish to add. More details are on the Cacoo website.
Cacoo is a pretty handy tool, and if you haven't tried it yet, we recommend you do so. We aren't designers, but we've even made use of Cacoo on occasion — see this graphic which my colleague Charlie put together for example.
The Cacoo team also announced today via its blog that it will be embarking on a Southeast Asia tour in the coming months. February will see them visit Bankok, Ho Chi Minh, Jakarta, and Bandung, with visits to Makati, Kuala Lumpur, and Singapore in March.
(Via CNet Japan)