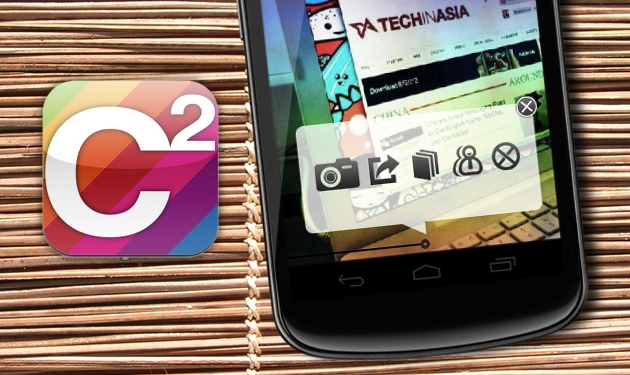 For all the power that the internet has to enable us to explore, poke, and pry, it is rarely done in a way that is positive and culturally enriching – not invasive or creepy. And so the new C2 app – from the Beijing-based startup Square C – is a fresh perspective on a social app, permitting a random stranger a glimpse into your life – and you into theirs – while maintaining your privacy and safety.
With the tagline 'The way to another life,' C2 is a simple app for iOS and Android that requires no sign-up – or name or other personal details – and will automatically pair you with another user somewhere in the world with whom you'll exchange photos. It makes for an intimate yet non-intrusive insight into their life. The main options are to then apply an emoticon to that photo to express how it makes you feel, respond with an image of your own; or disconnect from that user and be paired, by an unseen guiding hand, with another world citizen.
To learn more about the app, we talked to Square C's Adam Tesluk, a Californian in Beijing who's one of the startup's marketing team. The co-founders, he tells us, are two experienced tech entrepreneurs and executives, Shu Wei and Huang Huiming, who between them already have two decades of experience, the former of whom at social network Renren (NYSE:RENN).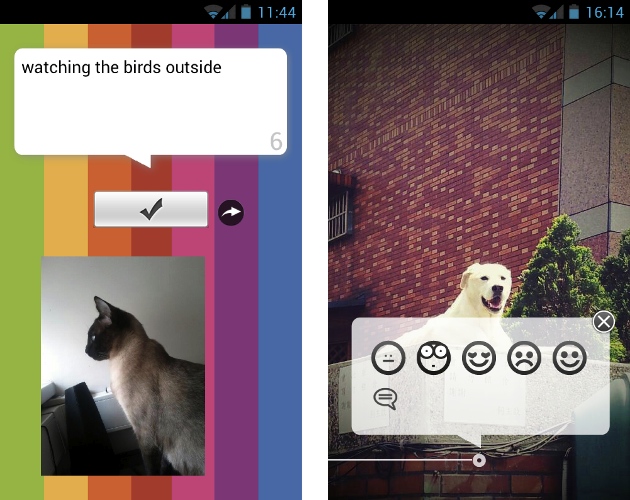 C2 was conceived, Adam explains, in reaction to the "problem with privacy when sharing on Facebook. We wanted to lower the barriers on photo sharing [thereby] solving the privacy problem." And so you don't even need to show your face in the images you broadcast to your mystery partner in the app, and can instead snap your cats, show off your gadgets, or take thoughtful, artsy photos – using any photo app already in your phone, with the option of putting filters on – in the park. "Location-based data is used, but it's not required," Adam points out. And so the name of the nearest city is the only personal or LBS-like info given out, issued only for a sort of cultural and geographic reference point.
After testing out the app throughout the day, I found that photos can be exchanged at your own pace; or, with the click of the 'handshake' icon you can engage in a real-time sharing session with an interesting partner on C2, swapping photos in a sort of wordless IM. Well, there's the option of captioning photos, but the character limit is just 32. It's not supposed to be a replacement for Twitter. It's quite fascinating to be permitted these ethereal yet effortless peeps into someone else's day, making me feel like a flaneur electronique, or like a character in an Alejandro González Iñárritu movie where a sudden yet jarring connection is made. But some might say that you can get the same insight and sensation from browsing through, say, Instagram photos on Twitter.
My first C2 partner, a man in a scruffy office in northern China, turned out to be, from a visual engagement standpoint, an anti-climax – but I was soon shuffled into the digital proximity of someone in Taiwan who took much more interesting photos, and so I shared it with my followers on Weibo: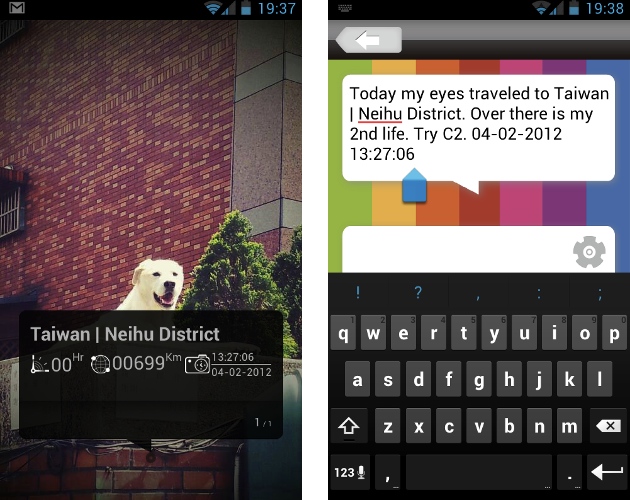 The app is not, we're told, in any way similar to the internet's most notorious mode of connecting with strangers. "It's not ChatRoulette," quips Adam. "We don't expect any content that's banned. Same as with Facebook." That has to be a genuine concern for a China-based company, where social networks are tightly controlled by authorities. But the Square C team seems to have faith in its users staying classy.
The app was launched in China before the US, and is seeing more users in its homeland so far. But, in contrast to so many local startups, C2's outlook is global, and the app already supports multiple languages and the sharing of images via Facebook, Twitter, Mixi, and Sina Weibo. Flickr – the original great online community of photo-snappers – will be supported in due course.
Adam tells us that Square C does have a monetization plan for C2, but needs to keep it under his hat for now. Plus there'll be a handful of "new features in the next few months."
Grab the app on iTunes or on Google Play; read more about the startup on its homepage.