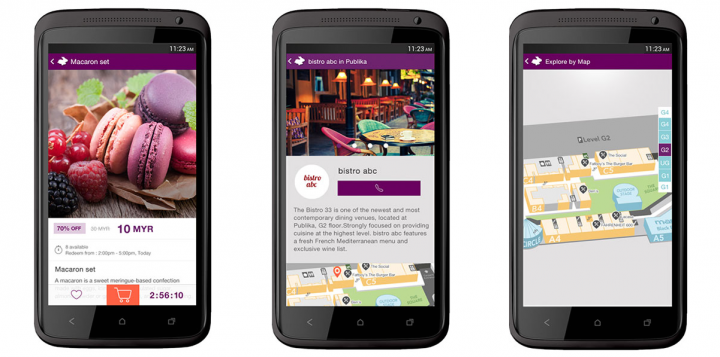 What's a startup to do after failing to take over the world with an ultra-global social network? In the case of BuzzElement, the answer is – pivot 180 degrees and go ultra-local.
Back in February, the Kuala Lumpur-based company launched a Jelly-like app called Cream. The premise was simple: take a photo of an item you're interested in buying, input the selling price, and wait for the crowd to tell you if it's a good deal or not.
"We want to create something like Quora for mobile but make it a lot more simplified so we can utilize everyday people's knowledge on a global scale," CEO Hajime Hirose told Tech in Asia upon the app's launch. "That's why we focus on elements that makes sense to everybody; photo, price – with currency converter and location."
Six months later, Cream is no more. Despite its intriguing premise, the startup simply didn't have the time or means to cultivate its community.
"It was always my dream to make a C2C app that goes viral around the world, but Cream just didn't take off." Hirose tells Tech in Asia. "We had 10,000 users but there was no solid business model behind it. It was too slow to gain a user base and we just didn't have enough capital to keep it going, so we decided to pivot into something different with a more focused business model."
Thanks to some venture backing behind his team – an undisclosed sum courtesy of CyberAgent Ventures – Hirose has some wiggle room to move fast, break things, and pivot. Grabit, which beta launches on Android today (with an iOS launch planned for late August), embodies the startup's move away from a take-over-the-world approach and towards a "start small and scale out" strategy. It's not unlike your average daily deals app, but it aims to avoid the horror stories so frequently associated with Groupon and other like-minded companies.
The daily deals dilemma
Mobile coupon services like Groupon (NASDAQ:GRPN) have become the digital answer to print circulars and a pair of scissors. Unfortunately, some group buying companies have ended up hurting merchants more than helping them – deep discounts coupled with one-shot customers cost some companies thousands of dollars in losses. Groupon, which once carried the industry torch, was expected to exit to the tune of US$30 billion. Instead, it went public at US$20 a share at a US$13 billion valuation. Today, it's trading at a mere US$6.25.
In Hirose's eyes, hyperlocal means that Grabit's mobile deal alerts, sent via push notification, must be within walking distance of the user. The new service won't debut across Asia or even Malaysia as a whole, but through a partnership with one specific shopping center – Kuala Lumpur's Publika.
Grabit also hopes to protect retail clients (dining establishments specifically) by allowing them to set up deals at very specific times. They can also turn a deal off if they start feeling overwhelmed.
Grabit tackles one of the most underserved needs for merchants – the ability to burn perishable inventory. The problem with Groupon is restaurants getting a huge amount of customers on a Friday night or the weekend. They don't need visitors then, because they are already busy. Grabit lets them set up a deal when the shop is at a low capacity.
By partnering with Publika, Grabit has also secured direct access to a captive audience. In Kuala Lumpur, shopping malls are like a city within a city – combining a shopping area with residences, office spaces, and entertainment complexes. Hirose says these kinds of locations are especially popular with wealthy expats that have credit cards and purchasing power, and his strategy is to sign partnerships with other malls that target a similar demographic.
"The idea is that people will take a look at the app 30 minutes before going for lunch to see what the daily deals are," Hirose says. "We don't need to worry about bringing them from outside, but circulating people who are already inside."
The app will face competition from city-wide services like LivingSocial and MyDeal, but Hirose says they cast too wide of a net to be considered true rivals:
In Southeast Asia, driving through heavy traffic and finding parking is a big hustle. Only bargain hunters will go thru the trouble to get the deals that are across the city, and they probably won't become return customers.
See: On the hunt for a hat: find the fashion bargains nearest you with this app from China
Choosing diversity
BuzzElement's international team – with members hailing from Japan, Malaysia, Indonesia, and Nigeria – chose Kuala Lumpur over Silicon Valley and Singapore after a fateful day trip to the Malaysian capital.
"Frankly, we couldn't afford the Valley, so we went to Singapore. We found housing and office space and were completely sold [on it]," Hirose explains. "But, on a whim, we came to Kuala Lumpur for one day and the chemistry was just perfect."
Hirose, who went to university in the US, worked at Microsoft for 10 years before being poached by a Chinese IT consulting firm. He eventually rose to become vice president, managing 400 people, before breaking away to chase his entrepreneurial dreams. Setting up shop in Japan never crossed his mind – in part due to the populace's comparatively low English ability and the high cost of international talent.
The startup also benefits from some attractive incentives from the Malaysian government, including a 10-year corporate tax waiver. In line with his push for diversity, Hirose was most drawn to Malaysia's two-week turnaround time for foreign work permits.
"For sure, it's easier to go global from Southeast Asia than Tokyo," Hirose adds. "If we started in Japan, all my key people would be Japanese. To build a global company, you have to have people from different backgrounds from the beginning."