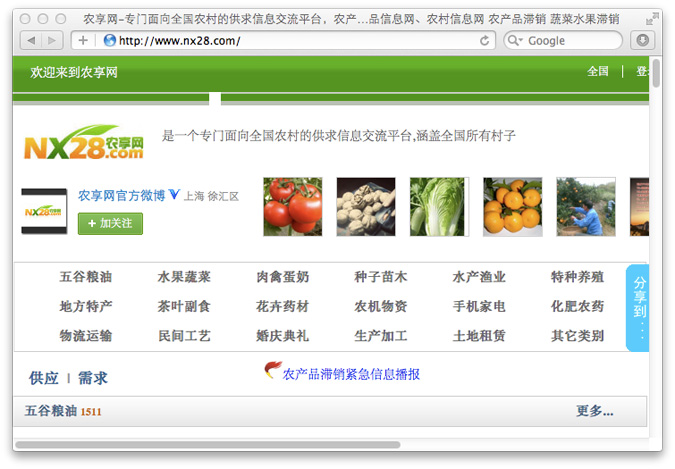 NX28 is a platform to connect farm stock buyers and sellers together in China. The site isn't too well-designed, but surprisingly it has quite a number of suppliers listing their farm stock for sale.
And for the record, farm stock here means actual farm products such as chickens and fresh tomatoes – not the virtual goods you find on Farmville!
Following a B2B model, the site functions a little like Alibaba.com. Suppliers can post their farm stock on NX28 for free and buyers can call or even QQ (aka IM) the owner for purchase. The site seems to have farm stock listings throughout China, including places like Guangxi, Heilongjiang, Qinghai, and uh… Taiwan, I checked.
Although the site isn't very good-looking, the little side bar flash map is surprisingly user-friendly when searching for farm stocks in the region.
In an economy which still very much relies on agriculture, NX28 helps to oil the mechanism between farm stock buyers and sellers to make the market more efficient.
NX28.com was founded by Bi Hong Zhen who was inspired to create a platform for farmers to list their stocks online for free, hopefully to create a new Internet age for farm villages.
Some of my relatives in Fuzhou are farmers (rabbits, tomatoes, and carrots specifically) but I don't recall seeing them having a computer or, needless to say, internet access. Perhaps most farmers actually list their stocks through Internet bars or through a common distributor who would take a cut for helping them sell their stocks.
Nonetheless, NX28.com's effort is pretty admirable. It's not the kind of cool start-up that we usually cover. But it surely does help make the Chinese farming society a little more efficient through the use of a simple website.
See also: How a Start-up Fights to Bring Local Language to Mobile Phones in Laos