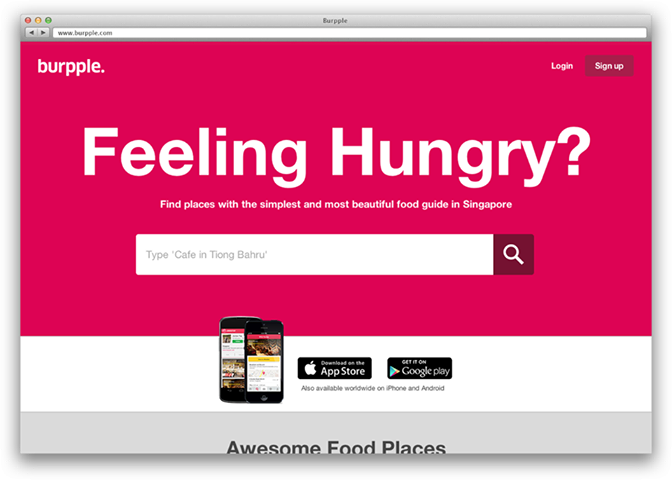 Burpple launched its web seach engine for food called The Social Food Guide today in Singapore. It's designed as a very visual way to help people discover great restaurants, unearth insightful reviews, and find out what the best dishes are. All that useful info comes from Burpple's popular foodie app that has users in over 3,300 cities around the world. Burpple's Social Food Guide plans to roll out its food search engine to Malaysia, Philippines, and Indonesia in the third quarter of 2013. It will also be incorporated into its mobile app.
Basically this is like Yelp or Zomato, and is a revamped version of the startup's Burpple Find feature that it launched in April this year. Users can search and browse to find interesting places to eat. For example, if I am at Orchard in Singapore and have cravings for western food, I can just key in something like "western food at Orchard" and a list of interesting places will be presented in an appealing way. When you click on one of the restaurants in the Social Food Guide list, you can evaluate what to eat based on the user-submitted food photos, written reviews, and top dishes recommendation. Other essential information such as the venue's address, map, directions, opening hours, and prices will also be shown.
Burpple smells the money
Singapore-based Burpple is going full throttle against Singtel's HungryGoWhere with this feature, a war they plan to win by having better graphics and a simple web layout. Co-founder Dixon Chan told me that because people tend to share photos of good food, bad reviews seldom surface. This positive-review only feature, he said, will be very appealing to food lovers.
There has always been a lot of buzz around Burpple since it launched in May 2012, as well as speculation about the startup finding its footing and generating revenues – but it seems like the team has found a way with this search engine feature. Burpple also revealed last week that it will earn revenue from charging restaurants and venues for Burpple webpage customization abilities. Burpple currently has 20 premium merchants and will be opening up to more merchants in the coming months.