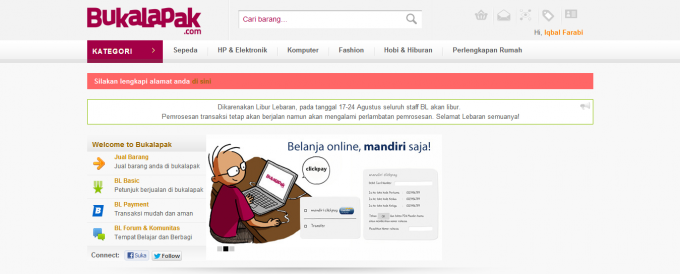 Folks at the e-commerce site Bukalapak.com seem to have been busy recently. After releasing Scallope last month, Bukalapak informed us that they are releasing a new payment system. Indonesian users of Bukalapak can now use Bank Mandiri's Clickpay as a payment method in addition to manual money transfer.
Bukalapak currently provides escrow service for its buyers and sellers. As we previously wrote that 70 percent of online shopping transactions in Indonesia are still paid with a bank-based money transfer, an escrow service is considered a safer choice for most consumers. With its new payment system, all additional activities surrounding the escrow mechanism (like confirming that a buyer has received the goods from the seller) can now be conducted in Bukalapak's web app. On most of Indonesia's e-commerce sites, these additional things are still conducted manually by buyers and sellers, often via phone calls.
Achmad Zaky, the CEO of Bukalapak, said:
With this new payment system, we wish to provide more secure transactions on Bukalapak.com.
In addition to this new payment system, Bukalapak has also released a new feature named Sistem Nego (meaning "Bargaining System"). This puts the bargaining process between buyers and sellers into a more structured interaction rather than just dumping all the bargaining into the comments section of every product – a common practice on Indonesia's e-commerce platforms. Although in my experiment using this new feature I still had to wait for some time for the seller to respond to my proposed bargain, but I do think this provides a better user experience. Of course, a better online payment system is also useful – for those with the necessary resources to actually use it.