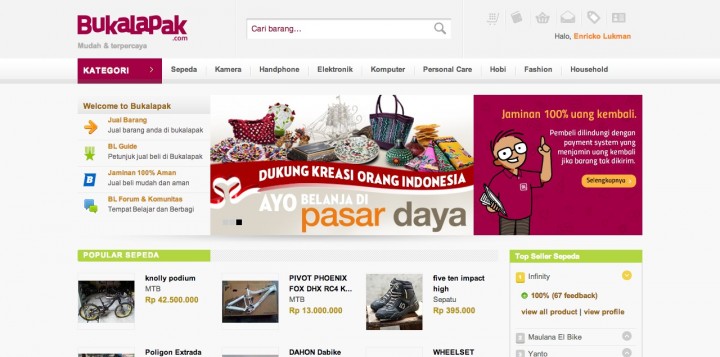 Indonesia's e-commerce marketplace site Bukalapak has received an undisclosed investment from Japan's Aucfan (3674:Tokyo), IREP (2132:Tokyo), 500 Startups, and existing investor GREE Ventures.
Bukalapak will use the new funds to "further enhance its marketplace platform, by streamlining user experience in online transaction, enhancing payment system, and providing e-wallet system BukaDompet." The team also plans to launch its native mobile applications this year.
This is Aucfan's first-ever investment in Indonesia, and CEO Shuichi Takenaga says he is impressed by Indonesia's attractive e-commerce potential.
Bukalapak is one of the top marketplace sites in Indonesia. Run by about 20 employees, the site now facilitates over IDR 500 million ($42,000) in transactions on a daily basis, not counting the transactions that happen directly between buyers and sellers. Bukalapak currently has 400,000 live item listings from more than 80,000 sellers in its platform.
500 Startups' Khailee Ng commented, "What their team has achieved in such a short amount of time speaks volumes about what they can achieve in coming years. We're always looking for tomorrow's global champions and we see this in Bukalapak."
The Bukalapak team raised series A round from GREE Ventures in 2012 as well as receiving its seed round investment from Batavia incubator the year before.
Bukalapak will need to use the vast e-commerce experience of its new investors as there is fierce competition in Indonesia's e-commerce marketplace industry, which includes Tokopedia 1, Rocket Internet's Lamido, XL's Elevenia, and eBay's Blanja. Huge e-commerce player Bhinneka recently announced its intention to join the marketplace party this year.
(Editing by Charlie Custer)
---
Disclosure: East Ventures invests in both Tokopedia and Tech in Asia. See our ethics page for more information.↩