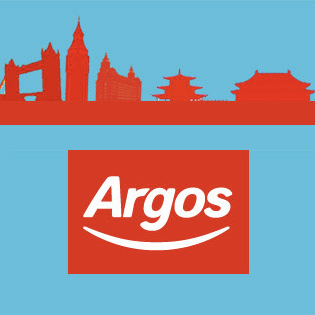 British retailer Argos has been a mainstay of High Streets across the UK for decades, and now it's aiming to become a byword for online shopping in China. Argos' parent company, Home Retail Group (LSE:HOME), entered into a joint-venture with Chinese electronics brand Haier (SHA:600690; HKG:1169) back in 2011, and that has finally yielded the new Argos.cn e-commerce site that launched very quietly earlier this year.
Like with the UK stores, the Chinese Argos site sells a lot of things, from gadgets to sports equipment, children's toys to shoes. A lot like Amazon China. Or Dangdang, 360Buy, Suning, Gome, Tmall and several other Chinese online stores. It's obvious that Argos is a very late entry into this huge sector – Tmall and its sister site Taobao brought in over $150 billion in revenue in 2012 – but it also seems that the site has no differentiator in a very crowded industry.
Argos' tie-up with Haier will, at least, let the retailer hit the ground running. The new online store replaces Haier's own e-commerce effort, formerly called Gooday.cn and which now redirects to the Chinese Argos site. The Haier Gooday subsidiary owns 51 percent of this joint-venture, with the British retailer holding the remaining 49 percent. Haier will also provide logistics support for Argos' e-commerce and offline deliveries.
Argos has three physical stores in China so far, opened in 2012 with an initial focus just on Shanghai, replicating the same kind of catalog shopping feel that it has in its 700+ shops across the UK. That means the stores are mainly filled with catalogs on desks, where buyers peruse the items to be fetched from the warehouse.
For Argos, the failure of Best Buy in China will weigh heavily, as Chinese consumers have shown that they prefer their offline stores to be more like the familiar gadget malls where you can haggle down the price or strike a bargain. That's even how top Chinese retailers like Suning and Gome work.
Fellow British retailer Marks and Spencer launched its e-commerce presence in China last month.
(Source: Sina Tech – article in Chinese)