China's mobile phone market, particularly its smartphone market, is huge and growing fast. China has dozens of domestic companies that produce handsets, but which domestic players have the best branding and have left the deepest impression on consumers? Sina Tech set out to answer that question with a week-long online poll that asked readers to choose the Chinese mobile company whose brand had given them the deepest impression. And while it may be just an online poll, it attracted nearly 250,000 respondents, so it's data that mobile companies in China ignore at their peril. Here's where the top Chinese mobile brands fell:
For those of you who like pie, here's an alternative way of looking at the same information: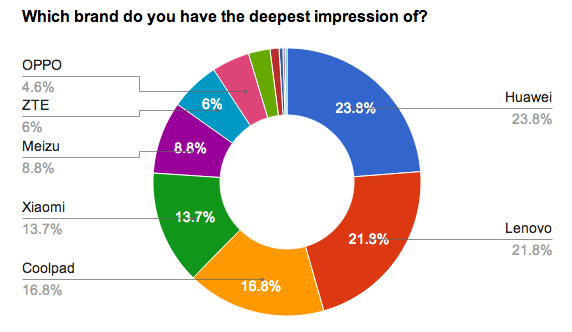 It's not surprising that a giant company like Huawei would top the list, but its definitely interesting to note that smaller startup players like Xiaomi and Meizu actually have better brand recognition than a major international corporation like ZTE.
With that said, though, it's important to remember that Sina Tech readers are likely more in-tune with the latest and hippest in Chinese mobile technology, so a more scientific survey of China's populace would probably result in lower ratings for Xiaomi and Meizu.
It's also worth noting that none of China's major internet companies' forays into the mobile phone arena (Baidu, Alibaba, Qihoo, and more have all released branded handsets) even made enough of an impact to make Sina Tech's list of possible responses in the first place. Granted, those companies are also Sina competitors, but I don't think any of them (if they're honest) would deny that they've failed to make the kind of splash they were hoping for in the mobile phone market.
(via Sina Tech)