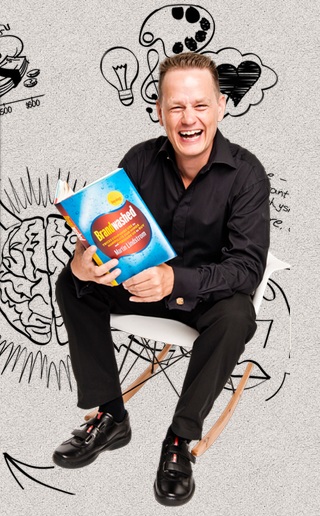 With the advent of social media, consumers could be having a bigger say about your company's brand than ever before, and they're doing a better job of popularizing your brand better than your marketers do. These are just some insights from Martin Lindstrom, a branding guru and author who has worked with clients like Microsoft, Ericsson, Visa, Mercedes-Benz, and Disney.
Present in Singapore for a one-day Brandwashed Symposium happening on 10th September, the 2009 recipient of TIME Magazine's 'World's 100 Most Influential People' will share more on how the branding landscape is changing with the times and how marketers and entrepreneurs can take advantage of the latest trends in consumer behavior and technology.
His thoughts on consumer psychology are gleaned from a $3 million global research study, which involved multiple neuroscience studies, a 3 month long 'reality show' experiment, hundreds of focus group interviews, and thousands of consumer interviews.
We took the opportunity to ask him some questions related to marketing and branding, and here's what he has to say.
SGE: What exactly is social branding, and how can companies take advantage of it?
Martin: It is to systematically integrate brand messages inside communities. However it is easier said than done. Here's the issue – communities by nature stay away from branded messages – it's simply not authentic, real and trustworthy. Only when there's a perfect match – like when LEGO fans in the LEGO communities discuss LEGO – and LEGO promotes new product innovations, then it makes sense. In short the message has to be 100% contextual – served at the right time, to the right audience with the right message – if these three factors are fulfilled it may work.
What are some tips you can give to startups who are just starting to establish their social media presence and would like to engage consumers to be brand ambassadors?
First of all you need to understand how many fans you already have out there – what do they say about your brand and what do they talk about? This would create the foundation for your social media strategy. Let's say you're promoting a shoe brand – and everyone talks about the shoes amazing ability to resist water when hiking – then I'd explore the idea of creating the best hiking community in the world.
First thing would be to get hold of top hikers – and ask them to contribute to the forum – as well as to draw traffic to the site, secondly I'd search the net and identify active hikers – and invite them to join my community, third I'd optimize my search ranking ensuring that I own all search key-words related to hiking, and forth I'd ensure to team up with "distribution" partners which could help to drive traffic to my site – (and of course in return drive traffic to their site as well).
Every move a consumer makes is now being watched, both by their peers and companies. How will this affect brands?
It's both good and bad – good (from a brand's point of view) because brand news never before has spread this fast so if your brand is seen "in the hands of the right (aspirational) person" a brand is able to take off in a matter of weeks – bad because it quickly can turn against you and tear down your brand if bad vibes take place, if the brand suddenly is seen among the wrong people.
What's a good case study where a brand ends up with the "wrong" people, and what can brands do in this situation?
The best case is probably the publicity stunt by Abercrombie & Fitch where MTV's Jersey Shore reality show contestants were asked by the U.S. retailer to stay away from wearing their clothes. The New Albany, Ohio company released a statement titled "A Win-Win Situation," in which it stated a "deep concern" over the association between Mr Sorrentino (the main participating in the reality show) and the brand. A&F offered up a "substantial payment" to Mr Sorrentino "to wear an alternate brand."
"We understand that the show is for entertainment purposes, but believe this association is contrary to the aspirational nature of our brand, and may be distressing to many of our fans," the statement read.
What is brand nolstalgia, why is it powerful, and how should startups decide if it's something they want to do?
Nostalgia is all about plugging into the past – the "good old days" where your brand had its "hey days". Because of the recession we're drawn to the past – it reflects solid values, trust and is a time we all for some reason believe was good. The phenomen is called "rosy memories" – it's a hardwired mechanism which means that we almost always remember the past in a more positive light than the present time. Good example of brands tapping onto this is Pepsi's Throwback – one of the most successful product launches from PepsiCo in recent time.
How do you know for a fact that people respond better to nostalgia branding during a recession?
I helped Pepsi release the Throwback product from Pepsi – a replica of the original Pepsi – based on the original recipe and can design. The Pepsi Throwback is today among the best selling products of all time. The entire concept was based on the concept of nostalgia branding.
What are some daily marketing habits entrepreneurs should develop in the course of growing their business?
To track what the consumer is saying about the brand by signing up to Google Alert, to remember the strength of a entrepreneurial business is that you have courage, you're fast and you have no politics – corporations will always struggle with these three factors creating an enormous competitive advantage for any startup when competing with the big guys. Finally – be provocative – in everything you do – this is the reason why Ben & Jerry or even Virgin became what those mega brands are today – to provoke, generate attention and as a result create a love affair with the consumer.
While being provocative can be good for a brand, how can one ensure that it doesn't backfire, as it sometimes does?
You can't – you need to gamble – in return however you might win jackpot.