Earlier this week, we discussed the growth that is happening in the m-banking space in the Philippines. Today, the Bank of the Philippine Islands (BPI) is continuing the theme by launching a major update to its BPI Express mobile app, intensifying its presence among mobile customers.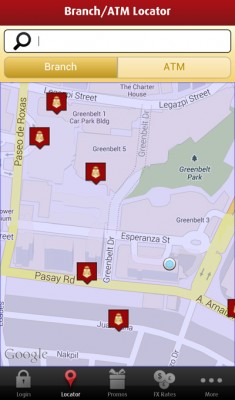 BPI's mobile app, which is available in both the Apple App Store and Google Play, has already been around for a while. First launched in 2009, it is the first mobile banking app in the country, says BPI vice president Andy Navarrete Jr. He explains the new m-banking features in the updated app:
Truth is, the previous version already offered a myriad of options for users: balance inquiry, bills payment, load credits top-up, and funds transfer. But now, the enhanced version adds more to that. Users can locate an ATM or a branch within their vicinity, check the latest foreign exchange rate, and browse through the bank's promo database. It also provides a quick link to BPI's Facebook and Twitter pages.
BPI says the app has seen 150,000 downloads since the very first version was launched.
Along with this update, the bank has also created a native app for iPad and Android tablets. Noel Tagaza, BPI senior vice president and head of the electronic channels group, says this move is part of their commitment to making it easy for customers to do their banking transactions through their mobile devices. As he says, "We see a shift towards the mobile space."
The bank explains that last year its total mobile banking transactions reached PHP 4.3 million ($99,000).
Noel underscores that BPI is committed to further expanding its mobile capabilities. Other projects in the pipeline include allowing BPI-to-other bank transfers, adding NFC capabilities, and making the app available for Windows Phone 8 and Blackberry devices.
Just last year, Unionbank joined the m-banking bandwagon and launched a mobile app that gives users features similar to that of BPI's (balance inquiry, funds transfer, bills payment, and load credit top ups). Banco de Oro (BDO) followed suit and launched BDO Deal Finder app. However, it only provides information on the latest deals for credit card holders.
(Edited by: Steven Millward and Anh-Minh Do)