In the Philippines, tribes, and ancestors from decades ago have found a way to make lots of products from locally-sourced materials. These materials are almost anything in the surroundings such as leaves or fiber of a plant, shells, bamboo, or wood. And these are usually handcrafted to turn into commodities such as bags, dresses, slippers or even furniture. It's something unique to the Philippines, and it has been carried on from one generation to another. But in an era where even the locals are becoming more westernized, these now tend to be forgotten. Philippine startup Bolooka now gives consumers a way to give a boost to these Filipino-made products.
A global storefront
Bolooka is an e-commerce platform and a marketplace tailor-made for Filipino-crafted products. In a way, it's like the US handicrafts site Etsy. Bianca Medina, Bolooka's co-founder, says the creation of Bolooka is meant to help merchants of these Filipino-made products be seen globally. She adds:
We believe in the ingenuity of Filipino craftsmen – that it has huge potential globally. They won't need a brick-and-mortar store to compete with huge players.
Bianca says that after it launched in 2012, the e-store got a good response from merchants. To date, the site already has more than 3,000 locally made products posted by over 300 merchants. Some of the good examples of unique Philippine-made products being sold in the site are sleek smartphone speakers made out of bamboo, classy tablet cases made from water hyacinth, and bags made from fabrics from various Philippine tribes.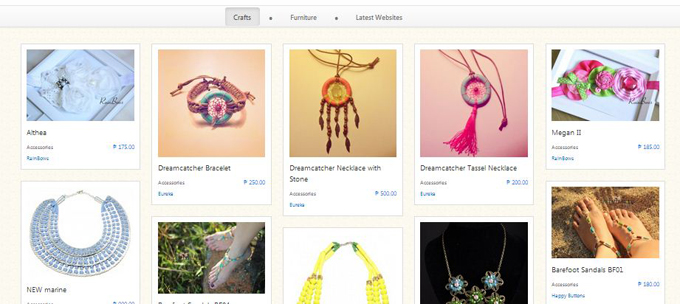 Sticking to the niche
Merchants of these products are spread across the country. Most often, the handicrafters come from the rural areas or provinces where the raw materials are sourced. We can take an example in Bolooka's blog where it cites Pampanga, a province in the north of Philippines' Luzon island, as a prime destination for woodcarved furniture and items.
While these items are unique to the Philippines, they still do not have a wide market in the country. This fact now makes Bolooka an important site in the Philippines. Bianca shares that by making these products discoverable through its site, the platform helps the merchants generate customer leads.
Bolooka plans to stick with this niche e-commerce segment in the country. In fact, the team makes sure that only Filipino-made products can be seen in its marketplace, preferably items that cannot be typically seen in most retail shops. The team does this by pre-approving the items posted by merchants before making them visible in the marketplace. Bianca adds:
There's a couple of e-commerce sites that nearly have the same concept as Bolooka but our main difference is that we make sure we only showcase quality locally made products.
Own a store within Bolooka
Merchants on the site can customize their own homepages in order to attract buyers. It's a bit similar to Multiply's platform (now shut down) where each merchant's store had personal touches in the design and logo.
Looking forward, Bianca says the team wants to "see substantial transaction flow by end of the year. Our focus is to get on board quality merchants and to help them increase sales." Currently, Bolooka gets its revenue through listing fees from the merchants after the free 10 item postings provided to them.
We've seen a number of e-commerce sites in the Philippines, but we haven't seen much yet that focuses on this category. It would be nice to see more locals and foreigners buying handicrafts from the Philippines to boost rural areas – and to make Bolooka more mainstream.
(Editing by: Steven Millward and Anh-Minh Do)