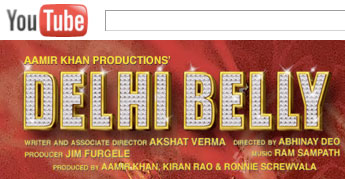 YouTube has been a great marketing channel for movies like Expendables, Fast Five and many others. Now an upcoming Bollywood movie, Delhi Belly, has created an interactive video channel on YouTube in an effort to attract some attention. The marketers behind the movie have leveraged the popular video platform to create an interactive Karoake Jukebox containing songs from its edgy soundtrack.
The songs of the movie are twisty and addictive, and they're creating buzz both online and offline.
The jukebox looks like a typical YouTube video at first glance, but a closer look reveals very creative use of annotations as buttons for users to select and listen to a particular song. Users can select any of the eight different tracks and also read its lyrics on the jukebox. My words probably won't do justice to the experience, so please check it out below to experience it yourself.
At the time of writing, the channel is already the eighth most viewed this month in India. This isn't the first time a music jukeBox is launched in India though. Rhydhun was a music desktop application that offered quality music, introduced by musicindiaonline.com.
Last month another Bollywood movie, Zindagi Milegi Na Dobara (You Only Live Once), was promoted primarily through mobile channels, partnering with Aircel to share a two-minute trailer with its 55 million subscribers. It will be interesting to see what other creative ideas future Bollywood movies will come up with to attract online audience.
[Via: WATBlog.com]