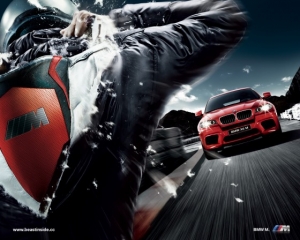 I've really enjoyed some of BMW's marketing work over the years, particularly its short film series, The Hire which featured star-studded crew of actors and directors, not to mention James Brown. Today ChinaSmack points us towards the company's latest effort in China, a project called 'M Gladiators.'
This new promotional teaser appears to be the first of a month-long campaign, as a countdown clock over on beastinside.cc, the dedicated page for the campaign, is ostensibly counting down to a model M launch. The 'M-Gladiators' video below is a little weak by BMW's standards, with Fast-n-Furious style street racing driving and talk of battle and honor — but hopefully we'll see something a little better as the campaign progresses.
Personally, I'd like to see something with a little less flash and drama, and a little more cleverness. BMW's viral ad last year for the S1000RR was enough to attract over 4.3 million views on YouTube.