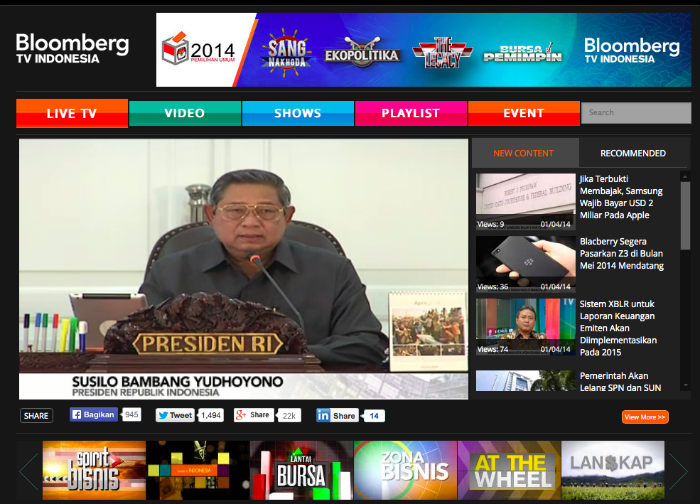 Bloomberg TV Indonesia is an Indonesian version of the US-based international Bloomberg Television. Alongside Mongolia and India, the Indonesia chapter has full autonomy and mostly develops original business content for the audience. The channel is probably the first in Indonesia to really focus on the country's tech scene.
Bloomberg TV Indonesia has two tech-related shows for weekly startup coverage, called TechNow and Startup. The shows deliver the latest news about software, hardware, gadgets, telecommunications, internet, mobile development, social media, startups, and tech entrepreneurs. The channel aims to give insight including data about startups and the tech market to Indonesian society.
More than 8,000 2,000 videos have been uploaded so far. The channel claims to have more than two million pageviews since August 2013 last year, with more than 2,000 unique visitors every day.
(See: OMG! Buzzfeed heads East, wants Asia to look at more cat pictures)
Bloomberg TV Indonesia is also meeting with tech startups. One of their offline plans includes going to campuses and holding seminars or startup pitching events. The channel wants to reach out to Indonesia's tech startup community and encourage young generations to develop their potential in the tech industry.
Indonesian television that really focuses on covering information and educating Indonesian society about technology and startups is rare. It's refreshing to see Bloomberg TV Indonesia help broadcast the startup community.