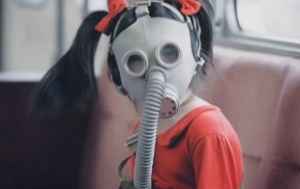 In the past we've written about how many creative individuals have used the crowd-funding service Kickstarter to raise money for projects or start-ups. It has proven especially useful in Japan after the March 11 earthquake, particularly in helping with measurement of radiation (see Safecast and Smart Radiation Detector).
Those projects were very much driven by a need to find out more information about the radiation threat in Tokyo. In the absence of reliable, easy-to-understand data people get scared. And the latest Kickstarter project from Japan is an attempt to visualize that fear in a short film.
Entitled Blind, the film raised $4420 from 51 backers on Kickstarter. Since its release a few days back it has been making the rounds on social media (I've been seeing many friends share it on Facebook and Twitter) and it looks poised to go viral if its good start is any indication. It has over 37,000 views on Vimeo and another 4,000 over on YouTube.
I was a little taken aback by the film at first, thinking that it went way too far, driven completely by emotion rather than any facts or reality. But as we saw in the first week after the quake, the effects of those emotions can have a very real effect on society.
Give the video a look for yourself, and let us know what you think. Also check out Timeout Tokyo's brief interview with the film's creators from a couple of weeks back.