Cars used to be dumb machines. But they're getting smarter with the introduction of anti-collision systems, cruise control, and other features that improve our driving experience.
Singapore-based startup Clickdrive is one of many companies driving this trend forward. Today the company launched a crowdfunding campaign for its first product, a computer that can be plugged into your car's dashboard to give it a second brain. It hopes to raise $100,000 by March.
The device is an implant that links your car to the cloud. But it's not just about about raw computing power and internet connectivity: Clickdrive wants to extend the functionality of your car and change the way you interact with it. It aims to do to vehicles what Apple did to mobile phones.
The platform has many moving parts. But you'll be interacting mainly with its many downloadable iPhone and Android apps. It already has several apps in the pipeline, including customizable dashboards, a fuel saver, performance monitoring, and a blackbox data recorder.
Car modding will be different
The group is also working on software that provides breakdown assistance with precise location and diagnostics information, as well as a car locator. But Clickdrive won't be limited to these features: it will release an SDK so that software developers can create apps to work with the platform.
To protect against malicious hackers, the company encrypts data that is transferred from the device to the servers and back.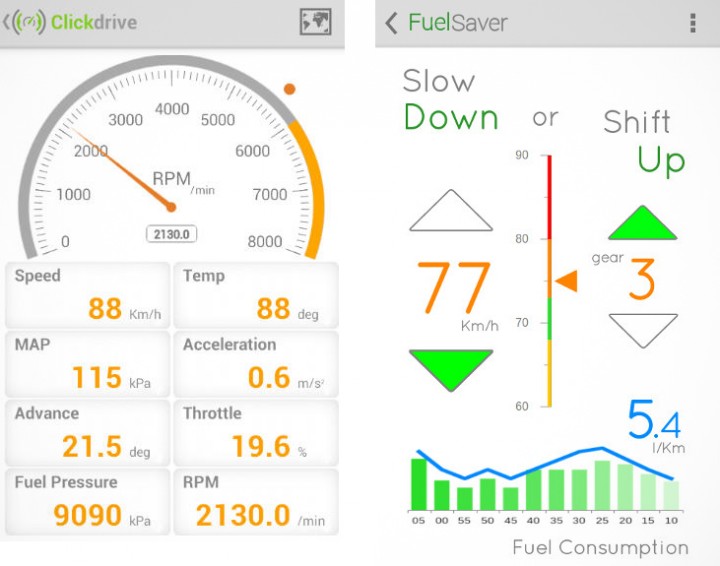 Clickdrive is being targeted at car enthusiasts who are into car modding, as well as car owners who want to get the most out of their vehicles. It even allows them to save money on car maintenance. Where previously they'd need to take their car to a specialized garage to measure braking resistance with a dynamometer, the data can now be unlocked with Clickdrive.
To get the device working, they'll simply need to plug it into the car's dashboard. The company claims it works with 95 percent of cars on the road, though new cars will generally get better performance and data transfer speeds.
The startup plans to release two versions of the box. The full-grown version, which can be had with a $269 donation to the crowdfunding campaign, will come equipped with at least a 1Ghz CPU, 512MB RAM, accelerometer, compass, GPS, and wi-fi for syncing with your phone and the cloud. It also has the ability to run multiple apps simultaneously.
The lite version, which you can get for $90 on the Indiegogo campaign, (Editor: this option is no longer available on their campaign) relies on the phone for processing power. As such, information flow is slower, and it can only run one app at a time.
For sure, Clickdrive isn't the only such product on the market. There's also Mojio, Automatic, and Dash. But Mark Sutheran, one of Clickdrive's founders along with Rishi Saraswat, claims that their product gives greater performance than rival offerings. He says:
Automatic is based entirely around the app. It's limited because the brain's in the phone, so its performance isn't that great.
Dash has just launched while Mojio is still unreleased, so any comparisons with these two are premature.
Revving up for launch
The company is looking to ship Clickdrive Lite by March this year and rely on online retail to sell the product. Distribution through car dealers is a possibility they'll be looking at later because of the product's margins.
The device has been in development since 2012 by the founders, who are both engineers. Sutheran, formerly a technologist at Lehman Brothers who built trading systems, left his full-time job as a senior manager at Standard Chartered Bank to work on Clickdrive. The company is entirely self-funded for now.
A car enthusiast and geek, Mark has been working on a similar idea since 2004, when an engine problem with his Fiat Coupe led him to develop an engine monitoring hardware for his car. But the technological pieces weren't in place to make it a viable commercial product. Things have since evolved.
Smartphones were a game changer, serving as a miniature computer, marketplace, and interaction layer between consumers and apps. Wi-fi and 4G networks were also breakthroughs:
In the past all data would have to be stored locally. Now with wi-fi and 4G networks, it's easy to pull data from the servers and into the device.
Investor and want to find out more about Clickdrive? Check out their profile on Techlist and sign up to set up a meeting.
(Editing by Steven Millward and Paul Bischoff)