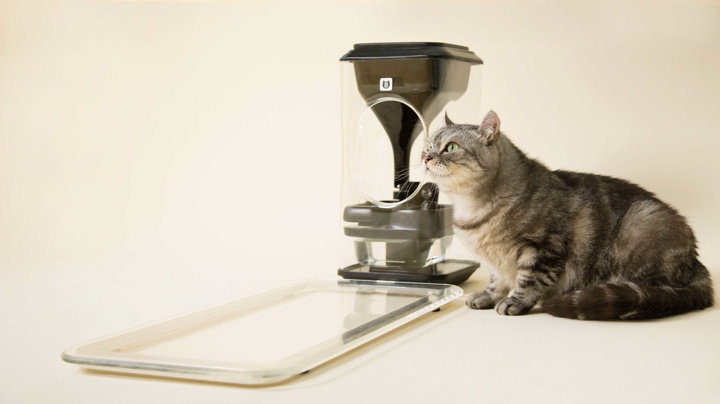 Startups in consumer tech love solving first-world problems, and crowdfunding sites like Indiegogo and Kickstarter are playgrounds for high-tech products of dubious utility. Remote controls, smart kegel trainers, and sleep-optimizing LED lamps will regularly get featured on Indiegogo, and Kickstarter's front page makes for great mindless entertainment alongside BuzzFeed and Reddit.
So it came as no surprise when Bistro, pet feeder that can recognize cats' faces, zoomed passed its funding goals on Indiegogo and made headlines in mainstream online media. If crowdfund addicts love anything more than half-baked product ideas, cat videos would probably be it.
But Zillians, the 18-man team behind Bistro, doesn't see the product as a pipe dream. In their eyes, it's a natural extension of what the company has been working on since 2008 – building a comprehensive artificial intelligence platform. Moreover, if Bistro is successful, it might be the company's ticket to an extremely lucrative market.
Fanciful feasts
Bistro's premise will sound familiar to anyone who's been following the nascent smart home space. The mini-fridge sized device holds set quantities of dry cat food and water, and attaches to a digital scale. Each time a cat steps on to the scale to duck its head in for a bite, Bistro measures the cat's weight and its food intake. If you've got multiple cats (most Bistro users probably should, as it's quite easy to estimate food intake of a single cat), Bistro will automatically recognize the cat's face to ensure that its measurements correspond to the correct cat. All the data goes straight to an iPhone app.
Putting aside the silly catchphrases – "quantified cat" and "cat recognition technology" – Bistro ought to serve as an appealing product for people that own multiple cats and care about them deeply. After all, cats don't just walk up to their owners to tell them they've fallen ill – one of the few ways for the non-veterinarian cat owner to assess their pets' health is to watch food intake. But giving out separate bowls to separate cats is a pain. Bistro lets owners keep food and water in one place that serves as the status-quo hub for cat health monitoring.
Bistro isn't the only cat feeder on the market. LA-based PetNet received US$1.125 million in funding for its smart feeder, but it doesn't measure weight, and uses portion control rather than scales to measure food intake. Gatefeeder uses smart ID collars to recognize which cat is which, but there's no corresponding mobile app for tracking.
Zillians founder Mark Chu says he got the idea for Bistro when one of his own cats suffered an ailment.
"I have three cats. One of them hadn't eaten for days, or for a week – well, I didn't know actually, and that was the problem. They all ate out of the same bowl, and I didn't know which ones were eating well and which one wasn't until it was too late. This wouldn't have happened if I had known about this cat's appetite change. So I wanted a device for people like me, who had multiple cats."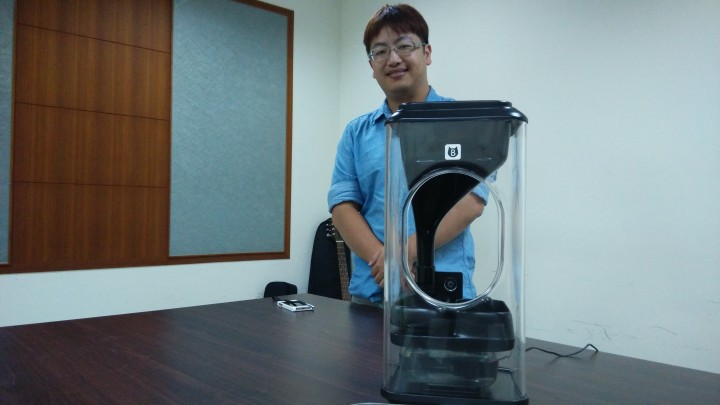 Of course, Bistro has its limits. As a feeder for many cats, owners can theoretically only put one specific type of food in it. So if Captain Whiskers needs to switch to rice-based kibbles in order to lose weight, you'll still have to make some changes in your cat feeding regimen. It's also a bit of an eyesore. No one's going to mistake a cat feeder for a work of fine art, but most consumer hardware products these days aspire to reach some standard of attractiveness, and Bistro doesn't quite cut it.
Supply chain intelligence
Pet preferences aside, the Zillians team is more of an AI-loving bunch than a cat-loving bunch.
Chu graduated from the prestigious engineering program at Taiwan's National Chiao Tung University in 2007. After working at IBM in California for a year, he returned to Taiwan and founded Zillians. The company's mission from the outset was to build an artificial intelligence platform – think of that as a giant virtual machine that can extrapolate information from a wide range of contexts and circumstances – and let businesses access it. For several years it provided software and its AI platform to Pushcam, a local startup that sells cameras for car dashboards. Bistro, as a result, marks a conscious pivot towards the consumer market.
Even though the Zillian's team specializes in software, not hardware, sourcing products was a breeze due to their connections in Taiwan. Whereas hardware startups in California can spend years sourcing component manufacturers in Asia, for Taiwanese entrepreneurs, finding the right parts is often as simple as calling up a buddy.
"For the scale, I just asked my colleagues, who happened to have a friend working at a scale company. So that was easy. For the camera, a friend happened to know people that do things with camera components," says Chu. "The hardest part was actually the mechanical component stuff, not the electrical component stuff. We were looking for a component that could control the nozzle for the food. We're not familiar with the mechanical component industry. But it's still easy to reach out to people by looking them up online and calling them. We speak the speak the same language and live in the same place, so it's easier for us than for people that aren't in Taiwan."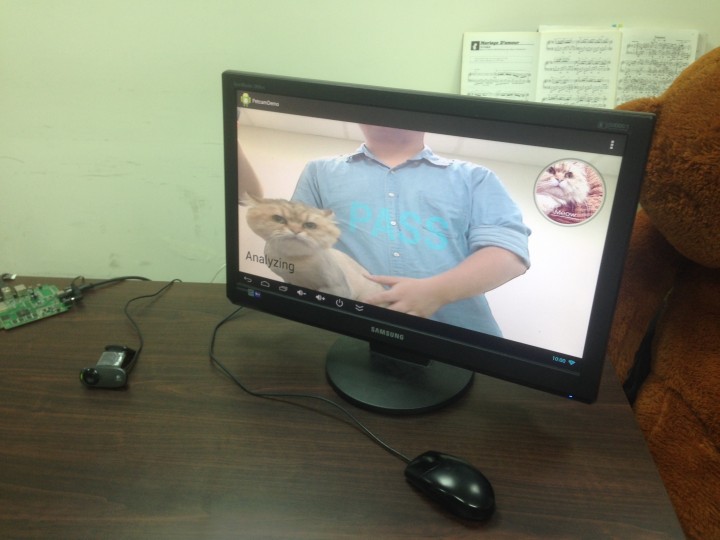 Chu says the team has spent about one year working on Bistro from conception to launch, all while continuing to work on ordinary responsibilities for Pushcam and others. Ten days after Bistro went live on Indiegogo, it's exceeded its funding goal of US$100,000 and still has 24 days left until its campaign ends. On top of the crowdfunding cash, Zillians also received an investment of US$1 million from K.S. Pua and his company Phison, which makes USB flash drives.
With respectable public awareness and some healthy seed funding, Zillians could use Bistro to make a dent in the enormous market for pet-related goods. The American Pet Products Association estimates that total expenditures in the industry will reach over US$58 billion this year in the United States, with US$13.7 billion going to supplies.
Of course, there are other companies that hope to use a sophisticated AI platform to invade ordinary households – namely Baidu, which poached AI Guru Andrew Ng to head up its research team in California, and Google, which has long been researching AI and signaled its commitment to the smart home with its purchase of Nest. When asked how an AI startup expects to compete against these giants, Chu replied that while Google looks poised to win over the remotes and the surveillance cameras, smaller companies can thrive by specializing in specific verticals.
"You don't just need the best technology, you need the best scenario," says Chu. "It can't just be walking into your house and the air conditioning turns on automatically. It has to be something that doesn't feel like a machine. That's the real Turing test."
Editing by Paul Bischoff