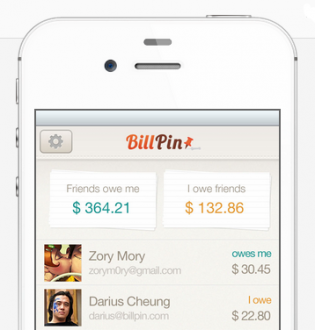 Homer Simpson would hate BillPin app; as someone not fond of paying back borrowed money – or returning Ned Flanders' lawnmower – he'd definitely not want a handy app that keeps track of transactions among friends. That's essentially what BillPin does, hoping to keep relationships squabble-free. The Singapore startup tells us today that it has had over 5,000 users since its soft launch, who have collectively tracked over US$1 million in shared expenses within BillPin.
One example of using BillPin might be for roommates to sort out their share of communal expenses. Or the app can be used to more easily split a restaurant bill (pictured below), and even make adjustments for those who ordered pricier dishes.
Co-founder Darius Cheung 1 tells us that today is effectively BillPin's proper launch, which coincides nicely with the roll-out of major updates to its iOS and Android apps, pushing both up to v2.0.
BillPin used its soft-launch, Darius explains, to get feedback on the initial app. "Having 5,000 test users really helped us shape the product and refine a lot of the design/UX as well." The bill-splitting tool is a new feature for v2.0 that comes from that test period.
The startup's other co-founder is Aileen Sim who recently explained to us – in our series of video interviews with women entrepreneurs in Asia – that living with roomates inspired the app. Aileen found that having to live in shared households can be stressful as you have to split major bills as well as tiny things like the cost of a pizza.
Darius found the same stress when living overseas for 15 years, and in recent years resorted to platforms like Google spreadsheets or Evernote to track all these outlays. Now, of course, he can use BillPin.
The updated BillPin app is in iTunes and Google Play for free.
Disclosure: BillPin co-founder Darius is an occasional contributor on this site. See our ethics page for more information.↩