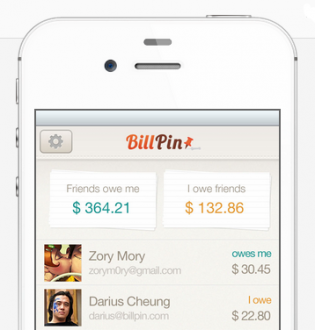 It's not too often that an acquisition happens around here – even less so do we see a startup snap up a larger rival. But that's what happened today. The Singapore team behind BillPin, the app that helps friends split bills and keep track of group expenses and friendly lending, has acquired its more established competitor BillMonk. BillMonk itself was bought by Obopay in 2007, so today's deal sees the service changing hands again.
The financial terms of the deal aren't being disclosed, but BillPin co-founder Darius Cheung (disclosure: he's an occasional guest writer of ours) explained to us how the deal went down:
We caught a perfect window of opportunity to do this and we negotiated hard, and as a result we picked up BillMonk for a very, very reasonable price.
That's surprising as BillPin has only been around for about six months. He added:
Other than a S$50,000 government grant (iJam), BillPin has been self-funded so far. We have not even done an angel or seed round – but we may do soon though, investors are welcome to find us.
All BillMonk users and their data will be switched over to BillPin starting today. Though unable to say how many money-lending buddies have signed up to BillMonk over the years, Darius admits that his fledgling app will see a huge boost in numbers from this buy-out:
We are quite happy with BillPin's growth over last six months, we've been averaging nine percent week-on-week growth (almost hitting Paul Graham's magical number). But our base is nowhere near what BillMonk has accumulated over time, what we are shooting for is to be able to turn on the growth factor on BillMonk's large base, which is probably more than 50-times our user base.