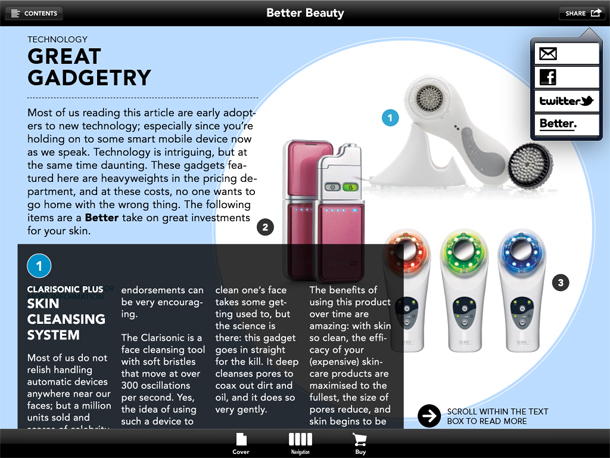 This is when great content fusions with design and technology.
Better Beauty is a gorgeous looking iPad-only beauty magazine. The beauty digital magazine features makeup, skincare and fragrance tips and stories for Singaporeans and the world. Better is the company behind this, which aims to be the pioneer publishing business to move from print to digital. The Beauty magazine is the first title under "The Better Guides". Coming up next are Shops, Coffee and Babies (in that order), followed by Beauty book 2.
The company describes its iPad-only magazine best:
"Users are able to interact with the content through the iPad's touchscreen functionality; Scroll through a wealth of engaging multimedia such as videos, image galleries, and animation. Choose what you want to read, and recommend products and articles to your social network through Facebook and Twitter integration."
Having tried the magazine on the iPad, the description lives up to the promise. The interactivity of the content adds an extra sense of fun while reading. Every flip of the page is like an adventure. You wouldn't know which rich media to expect. For example, readers can flick the bottle of the Shiseido skincare product while reading the advertorial. This little action helps to establish a better brand-and-consumer connection, which is possible through the iPad.
"We want to create a community of like-minded readers who want to connect with the brands and each other, and to ultimately allow them to share better content through the application," said Adele Chan, Editor at Better, when asked about the vision of the magazine.
The iPad magazine has so far achieved great results. Chan highlighted that "the app hit the top ten free lifestyle apps within the first 3 days of its launch".
Despite the app's high demand in interactivity and content integration, it only took Codigo about 2.5 months to create from start to finish. Singapore-based, Codigo, is a total apps, web and intranet solutions company.
"This is the future. As device screens have higher density, the lines will blur when reading from an actual page to an electronic device. I am pretty optimistic that 3 to 5 years from now, everyone will be reading and consuming information from such devices," said Adrian Ng, founder of Codigo.
This gorgeous magazine is worth a slot in your iPad: You can download the limited version of the app for free and buy the full version within the app for just US$1.99.
Let us know if you like the iPad magazine.