We previously posted some BlackBerry stats for Indonesia, showing just how successful the mobile handset is in the country. Today we'd like to look at Better-B, an Indonesian BlackBerry app development firm that hopes to capitalize on the nation's 'BlackBerry-fever.'
PT. Diantara Kode Digital was established in December 2008 under the brand 'Better-B' as it works towards being the most competent and competitive Indonesian Mobile application development firm.
Launched on December 21, 2008, Abul Ala Almaujudy partnered with fellow co-founders Kemal Arsjad and Oon Arfiandwi… And two years and three months later they can say they have made great progress in the BlackBerry mobile industry. We thought we'd ask them some questions:
1. RIM chose BetterB as its partner for the BlackBerry Live Concert. How do you feel?
We are SO PROUD. For us what is important is that we can deliver such a concept and execute it superbly. The majority of feedback on in social media or even in the conventional media has been positive. One problem that we faced was that Indonesian people prefer verbal language to visuals. We wrote a FAQ and a Disclaimer page yet they didn't read it, they prefered to call or mention us on Twitter.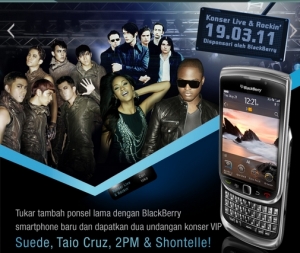 There's also quite a lot of people who use Blackberry only to chat, that's why they don't use the push E-mail on the Blackberry. They even go through their inbox via the browser! So there are still a lot of people who don't use their Blackberry optimally.
At that event we executed ticketing for 12,000 visitors and all of them used an electronic scheme for verification. There were 30,000 check-ins on Foursquare and we are happy to say that we got the first Blackberry Live badge for Indonesia. If it was going to be judged by virality, then it was a big success. We even got into the Twitter's Trending Topics using the #BBLive hashtag.
2. With relatively few competitors in the Blackberry App development space, how many projects do you receive?
In 2010 we made an App every 11 days. 90% of those are corporate . So things are going pretty well for us.


3. What's your business model? Any plans to build "freemium" apps?
For revenue, 2010 was dominated by building corporate apps. But in 2011 we're trying to release retail products with a freemium business model. Our target is at least 3 products released within this year.
4. How many people downloaded these apps? Are they using them actively?
To get a better idea of that we will use one product as an example. We developed M Toyota, an automotive application with geo location, information feeds, credit scheme, and simulation in it. In a month it was downloaded by 15,000 users. 75% of them are actively using the application.
5. Cool! BBM API Social Platform Beta Version has been released for developers. What are your thoughts?
With this, applications will become even more social. Apps will be connected with everyone. This is a positive change for BlackBerry developers. For example, a poker game will become more viral and involve a lot more people. You can get to know each other via BBM.
You can even update social media status since it's connected with BBM. It will be far easier to get an application to go viral and be successful. Developers are getting a lot of help from the API BBM Social Platform.


6. Last but not least, what are your thoughts on the BlackBerry Playbook?
The Playbook and the iPad have two different markets. For me, the Playbook is stronger in the business/corporate users market, while the iPad is more of a retail consumer product. Within these different segment, applications will be different too. For the PlayBook, Better-B already has a request to develop an application for a company. Android Apps will only benefit the PlayBook as it enriches application choice for retail customers market.