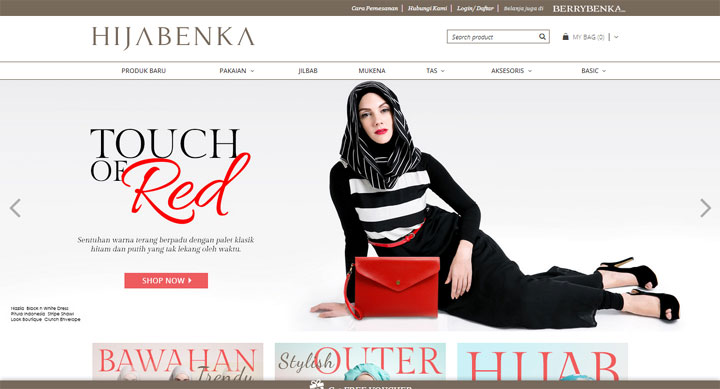 With over 200 million Muslim people in its population, Indonesia is the biggest Islamic nation in the world. This is a huge market for anyone to grab, and that's what women fashion ecommerce store Berrybenka 1 aims to do with its launch of Hijabenka.
Overall Hijabenka, which officially hard launched last week, looks similar to its sister company. Both have similar user interfaces and identical payment methods. Hijabenka's products all come from local stores, and sport a mix of local and foreign models on its product photos.
See: Berrybenka co-founder: Whatever industry you're in, you can be successful
Hijabenka has actually been operational since April. Within its short lifespan, the website already has accumulated over 1,000 products from more than 100 brands, and facilitates about 50 transactions every day. By the end of this year, the team aims to work with 300 brands and expand its COD payment method from 50 cities to 100 cities.
The store will offer 20 percent discounts for its items up through the end of June. The Hijabenka announcement conveniently happens just before the big Ramadan holiday later this month.
Regarding sister company Berrybenka, founder Jason Lamuda explains that the site records about 1,000 daily transactions with over 300,000 registered users. Right now they are working with more than 500 brands.
Two competing Muslim-oriented fashion ecommerce stores in Indonesia are HijUp and Saqina.
---
Disclosure: East Ventures invests in Berrybenka and Tech in Asia. See our ethics page for more information.↩
This article was first published on the Indonesian version Tech in Asia ID.