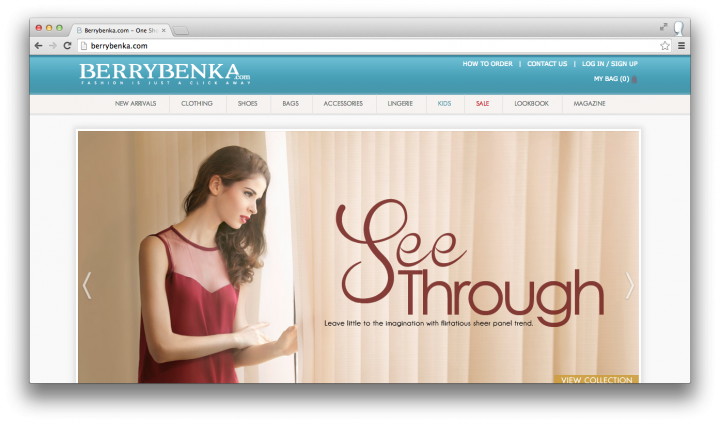 Indonesia's female fashion e-commerce Berrybenka 1 recently closed one of the biggest series B investment rounds in the country: $5 million. The company is on a fast rise as it closes its second funding round this year. The company houses products from 500 brands and is looking forward to 2014.
Berrybenka president director Jason Lamuda reveals that they want to be the number one go-to fashion e-commerce platform in Indonesia, similar to ASOS in Europe and Zozotown in Japan. Right now, Berrybenka focuses mainly on women's fashion, but it is very likely that they will expand to men's fashion in the future.
Fundraising
Berrybenka has raised three investment rounds from TransCosmos, GREE Ventures, and East Ventures in the last two years. Lamuda explains that these investors believe in the team's vision and about Indonesia's vast e-commerce potential. Furthermore, Berrybenka seeks more value than just funding from its investors. These values can come in the form of networks, future fundraising help, or operational expertise.
When it comes to convincing investors to plough in as much as $5 million for a series B round in Indonesia, Lamuda says they need to tick the different objectives that the investors have in mind. Another way to convince investors is by adapting proven business models used in other markets like in Japan, India, China, and Europe.
Lamuda adds that whether or not your business needs huge capital is relative to the team's vision. If your goal is to become the Tmall or ASOS of Indonesia, then capital is indeed needed.
E-commerce tips
Lamuda, who previously co-founded and exited daily deals site Disdus 2, shares three basic factors any e-commerce players should heed if they want to make it in Indonesia.
First is understanding and ensuring the products you sell are great and have competitive price points. This is what the team does, making sure that the customers feel they get the best deal. There are also quite a few items that are sold exclusively on Berrybenka.
Second is having a deep understanding of your customers and treating them well. This understanding will determine where you advertise and how you can maximize returning customers for the highest lifetime value.
Third is to always hire the best and most motivated team. It doesn't matter how big you want to grow your company; if you want to make sure it runs well with good cash flow, then having a good A-team is essential.
Scaling up

On Berrybenka's back-end, Lamuda explains the company operates on a consignment basis with its partners. This means that brands will place their products in Berrybenka's warehouses and the team will take care the rest, whether it be a photoshoot, order fulfillment, or shipping to customers.
Back in the early days, the team spent a lot of effort and time to get small local brands to join Berrybenka, convincing them one by one so that they could increase their sales through the internet. "Slowly we managed to build a good brand image and more brands wanted to partner with us," says Lamuda.
Now the team has grown to 60 employees who handle around 300 to 400 daily transactions as of May. Lamuda shares that one of the biggest challenges for Berrybenka is scaling and managing the team well. He adds:
Running a 10-plus order-per-day versus 100-plus versus 1000-plus orders per day is totally different and would require a different strategy from all aspects, be it in product, technology, operations, or marketing point of view. Thus, we really have to adapt and pivot accordingly so that we can scale and continue growing.
More fashion please!
Is there still room for more players in the online fashion space? Perhaps. "Fashion is a fragmented industry," says Lamuda, "just look offline and you see so many brands and department stores. But online, who can scale faster will be able to gain a big head start."
In 2014, Berrybenka plans to expand its product categories and launch mobile apps for iOS and Android. The team is looking forward to offering a better customer experience through logistical capabilities like cash-on-delivery and one-day delivery options.
Berrybenka has tough competition in this space including Rocket Internet's Zalora, which recently closed a $112 million funding round, PinkEmma, and Odioli.
(Editing by Paul Bischoff)
---
East Ventures invests in Berrybenka and Tech in Asia. See our ethics page for more information.

Berrybenka's brand name is awfully similar to Ferry Tenka, Lamuda's partner in both Disdus and Berrybenka. Lamuda defends the name similarity by saying that they chose Berrybenka's name because it sounds catchy and unique.