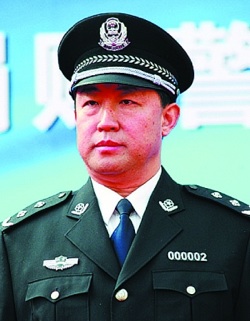 Beijing's Public Security Bureau – ie: the police – has issued a notice saying that it has arrested 5,007 people engaged in internet-related crimes. In addition, the police has meted out various punishments to the administrators of 7,549 sites, and claims to have effectively solved 366,000 cases of online illegality in this recent crackdown – though no timeframe was given.
City police chief Fu Zhenghua (pictured right) said that the clean-up was done to precede the school summer holiday so as to "protect the physical and mental health of young people" using the web. In addition, Mr. Fu said that over 10,000 internet cafes – popular with youngsters for gaming or chatting online – have been inspected, resulting in 263 illegal or badly-run web cafes being shut, and a further 201 operators of these premises being arrested. The police chief added that Beijing has 1.7 million citizens under the age of 14 – and two million who are under 18 – and that they needed to be protected when online.
It's not made clear what constitutes "illegal" in terms of internet usage in these cases. We've seen disturbing reports in the past of people being detained for speaking out online in a blog or BBS post, so we cannot be sure that all the 5,000 or so caught up in this swoop are indeed hardened criminals. Of course, there are plenty of thieves and scammers working online, such as those engaged in China's black market for stolen data. But it's hard to see how that directly impacts on children, unless the usage of that "protecting the kids" adage is an indirect way of saying that authorities shut down a lot of porn and gambling websites.
[Source: CRI Online; via Solidot – articles in Chinese]