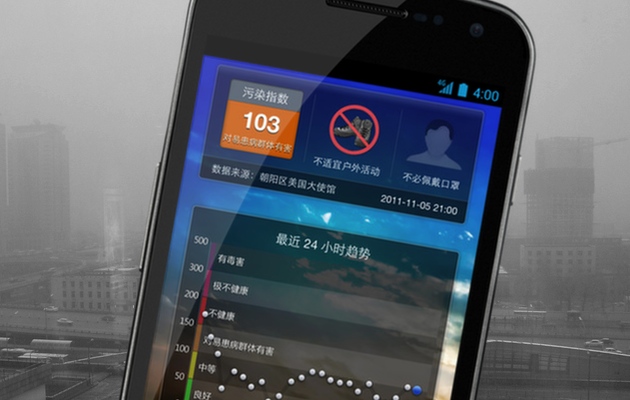 Beijing had a pretty bad weekend for air quality. In fact, it was so bad that people have taken to calling it the airpocalypse. Levels of PM2.5 — fine particulate matter that increases the risk of lung and cardiovascular disease — in the capital were quite literally off the charts, and it was pretty evident to everyone that this was not just fog.
Unsurprisingly, the terrible air led to a bit of a run on air quality mobile apps like this one, most of which rely on the Chinese government's public numbers or the US embassy's @BeijingAir twitter feed to provide real-time feedback on just how terrible for you the air is at the moment. There are a ton of air quality apps out there, so none of them generated any gigantic numbers on their own, but numerous apps have reported a big spike in the number of daily downloads that have occurred starting from January 8, when the most recent outbreak of toxic air began. One app, for example, went from 58 downloads on the 7th to 449 on the 8th; another went from just ten downloads on the 7th to 248 on the 8th. Other apps seem to have reported similar numbers that range from a 4x to 10x jump in downloads virtually overnight.
Since China's pollution problems don't appear to be going anywhere, it's likely this trend will continue. Ultimately, PM 2.5 and other pollution data may even be integrated into most weather apps so that users can get all the information they need about going outside in one place.
(Beijing Evening News via Sina Tech)