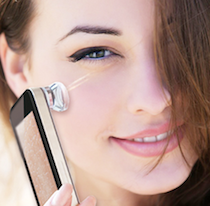 Have you ever struggled with finding the right make-up for your skin type? Who hasn't, right? [1] Japanese company Rakuraku Corporation is releasing an app at SXSW 2012 in Austin Texas in an effort to solve that problem. [2]
Its Beautecam iPhone application takes a very up-close look at your skin using an special 30x magnifying lens (sold separately, for 650 yen, or about $8). You can then check your skin texture, or look for sun spots or aging spots and archive your results.
But here's where things get interesting. Beautecam wants to be a social experience, allowing you to find other people in your social network (by connecting to Facebook or Twitter) who have the same type of skin as yours who you can then go on to exchange skin care tips with.
Beautecam can be downloaded from the App Store for free, and you can buy the lens from within the application. You can find out more information over at beautecam.com.
[h/t techwave.jp]
---
That was a joke, I don't actually use make-up. Although some people might argue that I should start.  ↩

I should also note that this company calls itself Rakuraku.com Corporation. But from what I can see, they don't actually own that domain but rather e-rakuraku.com. Someone please correct me if I'm wrong.  ↩