Imagine creating a product used by 13 million people. Pretty awesome, right?
Now imagine a much bigger company makes their own, pretty-much-identical product and incorporates it into their already-dominant product as a feature, and it grows to 300 million users. Suddenly, 13 million seems like a much smaller number, and you can't compete because your supernova of a competitor is giving away their product for free.
This is what happened to Hong Kong-based Talkbox, the first successful voice-only chat app. Voice chat now comes standard on WhatsApp, WeChat, and other messaging apps. Now two years old, Talkbox was once ahead of the game, but even 13 million downloads isn't enough traction to prevent being drowned out. Back when we first profiled the free app in late 2011, it had almost five million active users, but now that number has shrunk to about 1.7 million.
Talkbox was and still is free, but now they need to pivot to a viable business model to stay afloat. A market exit comes to mind — maybe sell out and let one of those giant firms acquire the company. I guess that wasn't appealing to the Talkbox team. Another alternative is in-app advertising, but there's not much money in it, especially with a shrinking user base. In addition, company CMO Jacqueline Chong argues that ads "totally distort the user experience."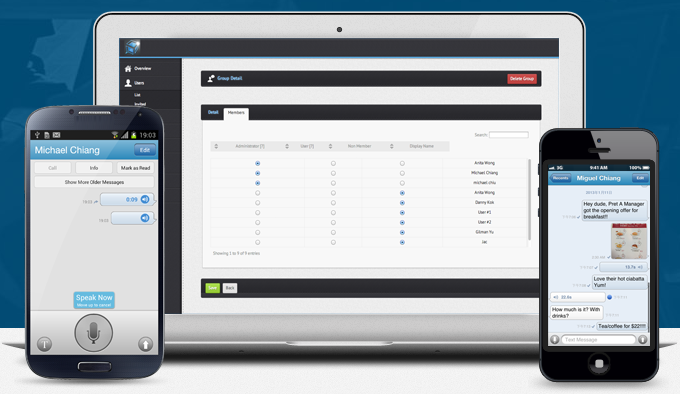 Instead, Talkbox opted for a two-pronged business-to-business option. They've just released the enterprise version of their app, called Talkbox Teamwork, which Chong says was requested by corporate and enterprise users. She adds:
They actually want to have an internal version of Talkbox. It's not that they're not using third-party apps like WhatsApp, but they really want to have everything in a closed-work environment.
This more secure version of Talkbox comes with a web-based admin console to control which team members go into what groups and what permissions they have. If an employee quits or is terminated, their messages can be retrieved. All correspondence is 256-bit SSL encrypted. Chong says some of their enterprise customers are considering white-labeling the app so they can add more features and integrate it with their existing system. "It's this sort of flexibility that gives us an advantage that other messengers don't have."
Teamwork is available for free for teams of less than 10 people. Still, it's going to be an uphill battle convincing companies that they need enterprise-level voice chat instead of just using free consumer-targeted messengers. Chong says it's important for them to target companies' IT professionals.
…Because when you talk to the users, they can tell you, 'Why would I need another messenger?' But experience tells us that, actually, for a company, when they go to an official communication tool, it's the IT guy who gets the say.
To be honest, I'm skeptical about Teamwork, but that's not the only ace up Talkbox's monetizing sleeve. They will also be selling Talkbox Button, the app's software development kit (SDK).
That means developers can incorporate Talkbox voice chat into their own apps as a built-in function. Integrate it into the dashboard of a collaborative work tool. Use it as a social feature for photo and video sharing. Even create a walkie-talkie experience within online mobile games. Talkbox charges based on how much data is consumed per month, rather than a one-time purchase. It's similar to a data plan with different usage tiers.
Both Teamwork and Button are in beta at the moment, but I can definitely see developers saving themselves the hassle of making their own voice chat service by purchasing the Talkbox SDK, whereas I'm not sold on the idea of businesses paying for a voice-only messenger.
What do you think? Is this enterprise pivot Talkbox's best chance for success? Will it survive, and even prosper? Let us know in the comments.