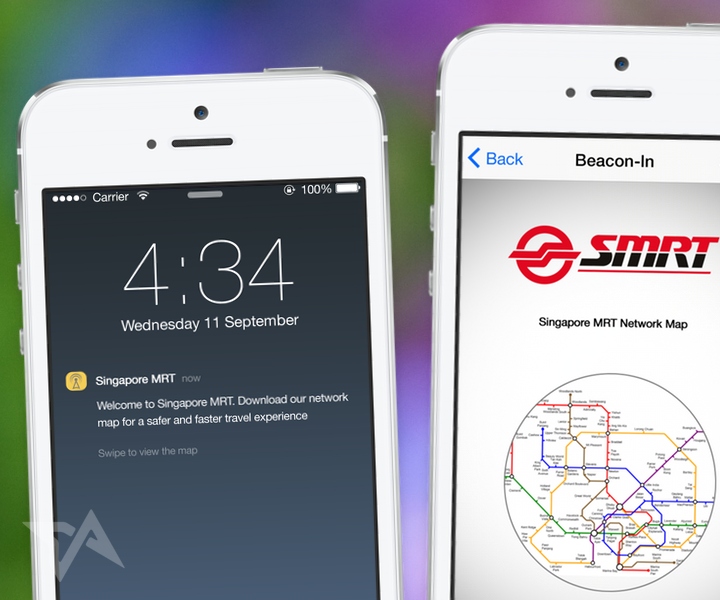 Apple's iBeacon technology, which can trigger an action on someone's phone when they're in range of an iBeacon, could shake up the retail industry and change the way we interact with stores, brands, and other venues. For now, this Bluetooth-based tech is largely untested and its realistic potential is unknown. But that's not stopping a number of startups from trying to build something on top of it.
One such startup is Singapore-based Beacon-In. It's building a service for retailers and brands to reach out to passersby via iBeacons – and the team is also building the hardware to go with it.
Beacon-In co-founder Aditya Haripurkar says that the tech has uses in a number of ways and places, and can prove useful to regular people. For example, Haripurkar explains, an airline could put iBeacons in its plane and upon arriving at the gate the service would ping all phone users on board (1), on iOS and Android, with useful information about the destination. Of course, it can also be used to push promotions and adverts too, which might prove less welcome. People don't need to have a specific app installed in order to receive alerts from nearby iBeacons, which is why some analysts say the tech could succeed where other things, like NFC or QR codes, have failed by being too tricky or annoying for most people to grasp.
In the example pictured above, arriving at a Singapore subway station will trigger a notification to check out the official SMRT app.
See: Economy class seats suck. Here's one way to reinvent them
Haripurkar says that Beacon-In is currently bringing stores and brands on board but declined to say how many have signed up so far. The enterprise-facing startup offers things like analytics, creative services, and consultancy so that its clients can understand the best way to reach more people through iBeacons.
For now, the notification leads only to an image, but browser actions and video-based alerts will be added in later as options for its clients.
Beacon-In will launch a consumer-facing app later this month for iOS – and then Android in July – for regular people who want to find nearby places to eat and shop.
---
So long as people have Bluetooth turned on.  ↩