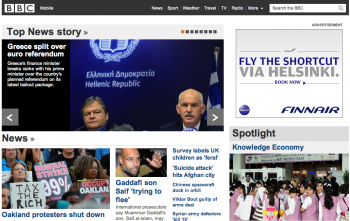 International premier news portal BBC.com has launched three new dedicated editions of its website for India, Asia, and Australia/New Zealand respectively.
These new editions will reportedly offer an "immersive and localized" BBC.com experience for its audience. It will provide in-depth analysis and breaking news coverage that will appeal to the audience's needs and interests.
To aid with this coverage, BBC.com has built a new Asia-Pacific team based in Singapore who will be working alongside other journalists from the BBC's international news service. Chris Davies, acting managing director, for BBC.com explained:
At present BBC.com is the leading international news website in Asia-Pacific with 11.1 million unique users per month. These editions are the response to overwhelming audience feedback and testing and will ensure even greater engagement from new and existing users.
Taking advantage of Geo-IP recognition technology, the homepage of these editions are supposedly designed to show the most localized version for each visitor. So you can expect to see local news, sport and travel sections, weather updates, features from local correspondents, and lots of video content once you load the homepage.
That said, I am not quite sure if the technology is already in place, since I got a generic homepage at the time of writing this article. The only localization I saw was the TV schedules for BBC Entertainment in India, along with weather information for Mumbai city, whereas I live in Bangalore. (Note: It does offers an option to edit the location, but that's not the point!)
Apart from regular programming, BBC has also unveiled five specially commissioned reports, commencing from tomorrow. These will offer topics beyond the major headlines, including:
Start-Up Stories China – An eight-part weekly series investigating how entrepreneurs in China are transforming the country and the world, starting on November 4. It's both online and on BBC World News.
Generation Asia – An eight-part series starting on November 4. The series explores the huge changes sweeping across the continent and the impact on a new generation of Asians.
India Direct – A series of reports starting on November 7 which will run in tandem with the India Direct season of programming on BBC World News.
China's Global Reach – In line with the G20 summit, this series of eight reports will complement the Global Economy section of the News website, focusing on the key role China is now playing, and will continue to play, in the global economy.
The New Middle Class – Two additional reports from the BBC series looking at financial decisions facing a new generation of middle class Asians, this time focusing on India. The reports will air in the week commencing November 21 and November 28.
What do you think about these new localized editions of BBC.com? Do share your views below.