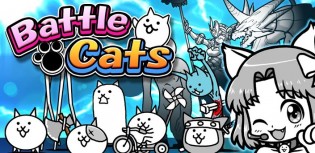 I've been raving about Japanese tower defense game Battle Cats ever since it first came out for iOS late last year. Earlier this month the title was released for Android too, and has been doing especially well in its home market of Japan in its first few weeks.
The game features crazy varieties of cats (Afro Cat, Beautiful Legs Cat, and Macho Cat are just a few examples) attacking an even crazier collection of enemies. And since last week, it has occupied the number two spot on Google Play's top new free apps ranking, just behind Line Bubble. Given that Battle Cats doesn't benefit from the Line chat app distribution channel that Line Bubble has, this is as good as number one in my book 1.
The app is also faring well in the top grossing apps section on Google Play, currently ranked 17th. As for iOS, Battle Cats is currently ranked second in the strategy category, fifth in similation, and 42nd overall in the free category.
I'm still playing it, but I've hit a bit of a wall in the final stage of chapter three, and I'm wishing that I had saved my cat food to buy really powerful cats rather than splurging on a useful Afro Cat (Yes, I too cannot believe I just wrote that sentence). If you're just starting out with Battle Cats, I would advise that you try to save up cat food using invite codes and maybe buy the expensive Kung Fu Cat, or even the SM-cat or Bondage Cat (I can't believe I wrote that sentence either).
In any case, it's a really fun game and I hope you enjoy it. If you have any tips, let us know in the comments!
Update: According to Gamebiz.jp, Battle Cats has also just surpassed a million downloads. This is just 67 days since it was originally released for iOS.
---
Yes, it's pretty obvious that I'm rooting for this game. Do note that the Google Play app rankings will display differently according to which region you are in. So while I see Battle Cats at number two in Japan, you will see different rankings in the US or other countries.