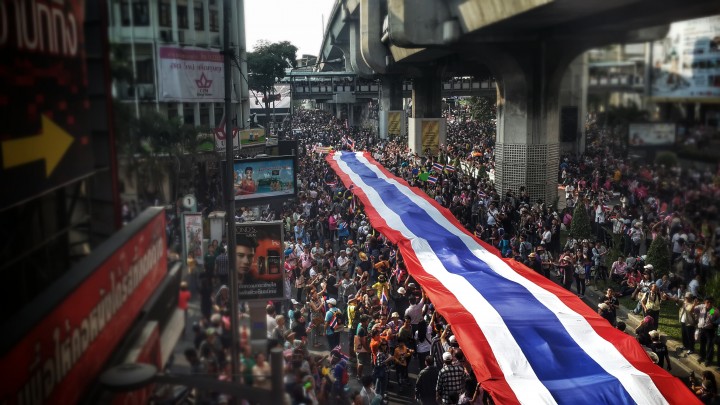 Today is the first day of the Bangkok shutdown, in which anti-government protesters have started blocking seven key spots in Thailand's capital. The aim is to force the Thai government to obey with the group's requests. Locals and foreigners alike have been told to follow the #BKKShutdown or #BangkokShutdown has tags on Twitter, or listen to the FM 88.00 station for English news. We've also prepared a list of apps that could be useful during the shutdown.
If you happen to be stuck in one of the shut down areas of Bangkok – or if you're participating in the protest – the founder of the ADSLThailand site predicts it's likely the 3G on your smartphone won't work. However, Thailand's National Broadcasting and Telecommunications Commission (NBTC) promises there will be no "shutdown" for the regular cellphone service.
NBTC stated that the office will send out five vans to observe the quality of cell signals across Bangkok – especially around the affected areas – and work with the network operators if they encounter any difficulties in using mobile phones. The five monitoring vans will be in the following places:
Democracy Monument – Thonburi area
Victory Monument – Pathumwan – Ratchaprasong – Lumpini – Silom
Ladprao – Vibhavadee – Kaset
Sukhumvit – Asoke
Government complex – Changwattana road
The NBTC urges protesters in those areas to allow the vans to drive around and cooperate with staff. Also, the NBTC has ordered mobile operators to increase their mobile data bandwidth in the main protest areas to make sure that communication won't get disrupted.
In addition, one of Thailand's main telcos, AIS, has already announced that in order to prepare for the situation, the company has a 24-hour engineering team that's ready to connect and work remotely, while the customer service line is still working as normal.
Along with an emergency hotline – on 191 – tourists in Bangkok are advised to keep these numbers handy to get more information on possible disruption to things like trains and airports in the capital.
(Image credit: Instagram user 3ho8)
(Editing by Steven Millward)