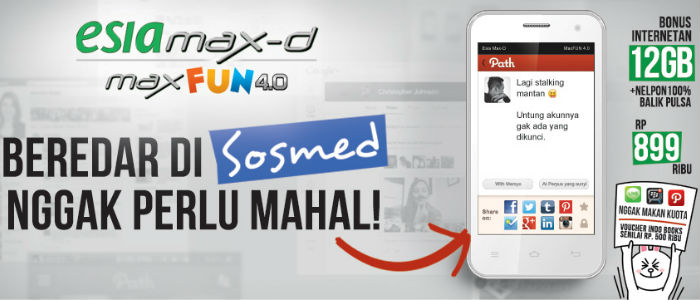 (Update: Just to be clear, Esia users can have free quota usage for Path, Line, and BBM. They do not get free access to premium items like stickers.)
The biggest news in the Indonesian tech scene so far is about how local conglomerate Bakrie Global led the $25 million series C investment for mobile social network Path a few weeks ago. So it comes as no surprise that Bakrie's CDMA telco business, Esia, is one of the first players to offer free Path usage in Indonesia.
The free Path usage is only available for Esia's MaxFun and MaxPic smartphone users. The offer has actually been available since December and was supposed to be just a one-month promotion, but the team extended it up through to the end of June. In addition to Path, the two handsets also offer free usage for messaging apps Line and BlackBerry Messenger.
(Read also: 3 reasons why Bakrie Group's investment in Path is a good move (despite the huge controversy))
Path CEO Dave Morin told Recode that it was important to have a partner on the ground to help the comany deliver high quality services across Southeast Asia. "With Bakrie and Bakrie Telecom — having a mobile carrier partner that can help us with that is very important," Morin said. He added that they will be working with other local carrier including like Telkomsel, XL Axiata, and Indosat.
The promotion will help boost Path's user adoption in Indonesia, and who knows, maybe Esia can again extend the free Path promo beyond June. Currently Indonesia is home to four million active users on Path.
Esia isn't doing too well, however. It is now recording a year-on-year drop in users and a huge IDR 1.5 trillion ($138 million) loss during the third quarter last year. Local media outlets believe that the future looks bleak for CDMA businesses in the country.
(Editing by Josh Horwitz)