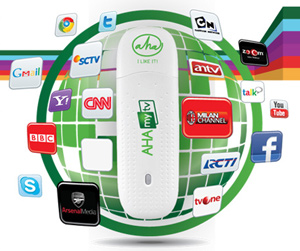 Bakrie Telecom has just launched Indonesia's first ever internet TV capable modem, the AHA-My TV. It allows users to enjoy high-speed internet access at up to 3.1 Mbps, and also get dozens of streaming television channels, hundreds of movies and videos, and even learn to read the Qur'an.
On the AHA-MyTV modem, customers can record, stop, and replay their favorite television shows. At the product launch, the president of Bakrie Connectivity, Erik Meijer said:
Based on our internal data, we saw that a third of AHA customer's traffic is used for accessing video content, especially YouTube. Therefore, we tried to deliver a service that could facilitate that."
In line with Bakrie Telecom's mission of providing affordable Internet access, users can also tailor the streaming TV plan and television content to their specific needs, starting from IDR5500 (US$0.60) per day. The aim is for the service to be cheaper – and more flexible – than cable TV.
Bakrie is looking to sell 200,000 units of the AHA-MyTV modems by the end of 2011. Given how many Indonesian people use the mobile internet, it looks like the AHA-MyTV has great potential to compete with other broadband providers in the country.
[Source: VIVAnews]