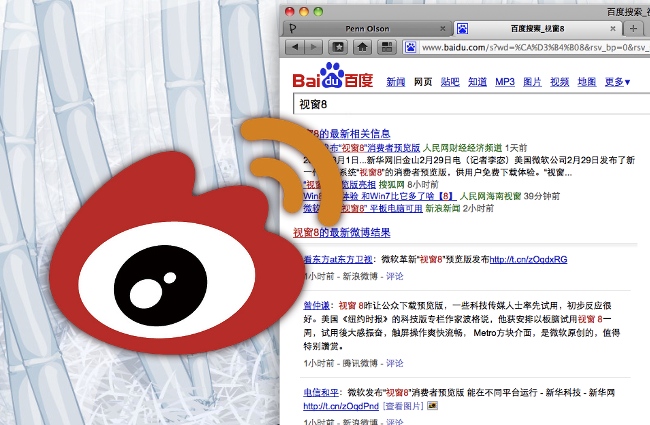 Starting this morning, Baidu (NASDAQ:BIDU) is adding search results from Chinese microblog site Sina Weibo, giving its search engine users quick access to tweets on trending topics.
The very recent tweets will show in a box clearly marked 'newest weibo results' on the first page of a Baidu search for any names or phrases that happen to be popular/trending [1] at the time. For example, if I search for 'Windows 8' in Chinese, I get three relevant Weibo tweets (as pictured above).
As is inevitable when linking to random microbloggers, the results can be a mixed bag, so only one of the tweets proved useful in my test, taking me to a video news report about the Windows 8 launch. One way for Baidu to improve this is by taking you to the actual tweet page, not the Weibo user's homepage (as currently occurs). Also, it would be useful to scroll through some more microblog results, as can be done with Google's collated Twitter search results.
This initiative by Baidu isn't entirely new, as the search engine giant has already tied up with three other microblog sites in China: Tencent's (HKG:0700) Weibo, plus the less used Netease (NASDAQ:NTES) and Sohu (NASDAQ:SOHU) Weibo platforms as well. So, today the picture is complete with added support for the Sina (NASDAQ:SINA) service. Even though Tencent's site has more registered users – a whopping 300 million – today's addition is important because Sina's service seems to have the most buzz, more media mentions, and allegedly also has the lion's share of wealthier urban users.
Announcing the new Sina Weibo searches, Baidu's executive assistant, Zhang Dong-cheng, said:
We process billions of search queries on a daily basis, and many of those queries are related to the real-time information found on microblog posts. With this deal between Baidu and Sina Weibo, Baidu has completed its integration of high-quality content from China's four leading microblog platforms.
In the same joint Sina-Baidu press release, Sina's VP, Peng Shao-bin, said that his company's Weibo service sees "100 million microblog posts daily" and can thereby provide "quality real-time information."
Exactly two weeks from today, all microblog sites must start to enforce 'real name' tweeting, meaning that any users who have not submitted their names and national ID numbers to the web companies will no longer be able to post. That could cause the number of daily microblog posts to fall off a cliff.
---
To see what's trending on the Chinese web, you might like to check out Baidu Trends. ↩